Treatment
CGM Watch Closer to Reality
PKvitality's revolutionary glucose-sensing watch wins awards while the company makes big moves in anticipation of an upcoming product launch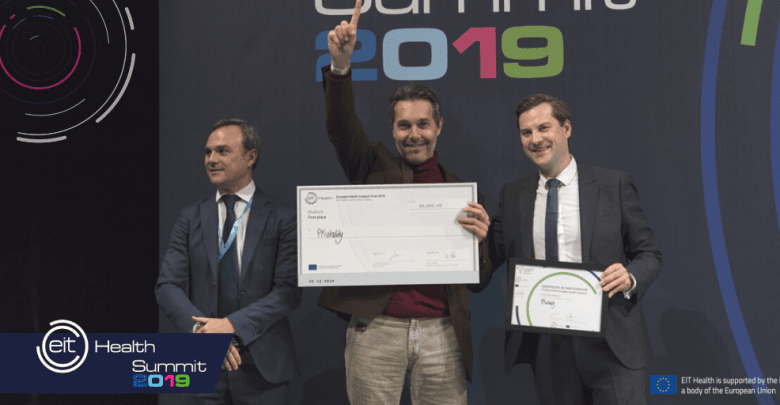 Early last year, we brought you the exciting story of PKvitality's K'Watch–A CGM device unlike anything else on the market. (Read our original coverage here.)
In the last few months, the company has made some major moves to bring the concept of the pain-free glucose monitor into reality.
Why another CGM?
There are currently a variety of CGM devices available to people with diabetes.
There is the frontrunner, Dexcom G6, which requires no fingerstick calibrations and will soon be available for use with Tandem's Control IQ hybrid closed loop system, which has had such positive outcomes in trials.
Then there is Medtronic's Guardian CGM which currently works with their hybrid closed loop 670g pump system.
Beyond these traditional CGM types, there are options like Libre's Freestyle which allows you to scan the sensor for realtime glucose updates, and Eversense's 90-day implanted glucose sensor.
While it may seem like there's a little something for everybody on the market right now, all of these options share the same basic flaws.
All of these CGMs require the insertion of a large needle to implant the sensor deep into the interstitial fluid. 

Once implanted, you must attach a transmitter and secure the entire apparatus with bulky, and often faulty, adhesive tape.

You must constantly rotate sites to avoid building up scar tissue that will affect readings and further irritating the skin with additional tape.
Why the K'Watch CGM Is Different and Needed
The K'Watch CGM has these features:
There no need for site rotation because the CGM works by "tasting" glucose levels just under the surface of the skin

This means no giant insertion needles and no pain

This system is more discrete than any other on the market

It almost completely reduces the need for adhesive tape. 
Instead, the sensor consists of multiple micro points that just barely penetrate the skin. In fact, the contact with your flesh is so shallow that the tiny needles won't even cause bleeding or scarring. A small, soft adhesive pad is required and fits under the watch face. 
Best of all, the transmitter and receiver are integrated into one device, all in a watch with a band that holds it over the sensor. 
And, like most continuous monitoring systems, the watch provides you with continuous glucose readings as well as alarms for predicted high and low blood sugars.
Big Moves to Advance CGM Tech
PKvitality is just wrapping up its preclinical trial phase and hopes to begin human trials on its new CGM system by mid-2020. 
While it may seem like a market launch is still far off, the company has made some moves in the last few months that not only show they are gearing up for a viable product, but that hint at a product that may just live up to the hype.
The company recently created an advisory board consisting of John Brooks and Alexandre Richard.
Brooks was the co-founder of Insulet and helped create the tubeless insulin pump, Omnipod. He once also served as the President and CEO of the Joslin Diabetes Center. He will no doubt be vital in preparing the French company for launch in the US market.

Alexandre Richard is VP Corporate M&A at Sanofi and is now on the PKvitality advisory board

Richard is VP Corporate M&A at Sanofi, a global biopharmaceutical company focusing on diabetes and other healthcare industries.
Combine this knowledgeable advisory panel with the fact that PKvitality recently joined Dassault Systèmes' 3DEXPERIENCE Lab partnership program, and it would seem all the pieces are falling into place for a successful product launch. This program will give them access to industry-leading software as well as a wider network of potential partners and investors.
Even more exciting, PKvitality recently won the EIT European Health Catapult in the MedTech category for their work on the K'Watch. The company won over 200 other health industry start-ups to get this award from over 1,000 stakeholders, innovators, and opinion leaders in the MedTech sector.
While there is still a long way to go between now and FDA approval, the resources the company has gained since November have given them the confidence to set a launch window of early 2022.
It is impossible to say right now how this CGM will compare to others currently on the market in terms of accuracy and ease of use. But, given the novelty of the design and discrete, pain-free application, it is certainly a product we plan to keep a close eye on over the next couple of years.