Treatment
PKvitality Continuous Glucose Monitor K'Watch is Exciting
Disruptive architecture promises discrete, pain-free, low-cost Continuous Glucose Monitor for both T1D and T2D
We spoke with PKvitality's General Manager Minh Lê, and CGM consultant Tom Bishop. They shared their investor slide deck and we have included selected images in this article.
CGM Reimagined
The PKvitality team wants to disrupt the existing CGM market. Rather than making incremental improvements they have reimagined the CGM experience. Their goal is to significantly expand the use of CGM for people with T1D and T2D.
The smartwatch-based approach provides a discrete and pain-free solution that keeps any complexity in the watch itself. This enables the sensor to be radically lower in cost.
Comparison with Traditional CGM
CGM's have evolved a lot over the last decade. Today, they make great use of mobile apps to improve access to their data and provide alerts. CGM sensors and receivers are smaller as well. The user experience of attaching and wearing the sensor requires care, site rotation and managing skin irritation caused by the adhesives. The disposable sensors are expensive and need to be replaced every 7-14 days.
Some people remove their CGMs in social situations to avoid having to discuss what they are and why they are wearing them.
PKvitality is trying to improve user experience and lower user costs. To do this, they have invented a new sensor that has multiple micro points that just barely penetrate the surface of the skin. The insertion is painless and the points don't go deep enough to create scarring or bleeding. The sensor is mildly compressed onto the skin via the watch band so only a soft adhesive is required, which avoids skin irritation in most people. Site rotation is not required.
Sensor life for the K'Watch is 7 days.
In addition, all the expensive parts of the CGM have been shifted into PK's smartwatch. It has a powerful microprocessor, a large battery, and typical smartwatch applications. This design reduces the components in the sensor to just the micro point array and its electrical connection to the watch, which greatly simplifies manufacturing costs. It is this combination of a very user-friendly CGM watch and very low-cost sensors that will finally bring the benefits of CGM use to the majority of people with T1 and T2.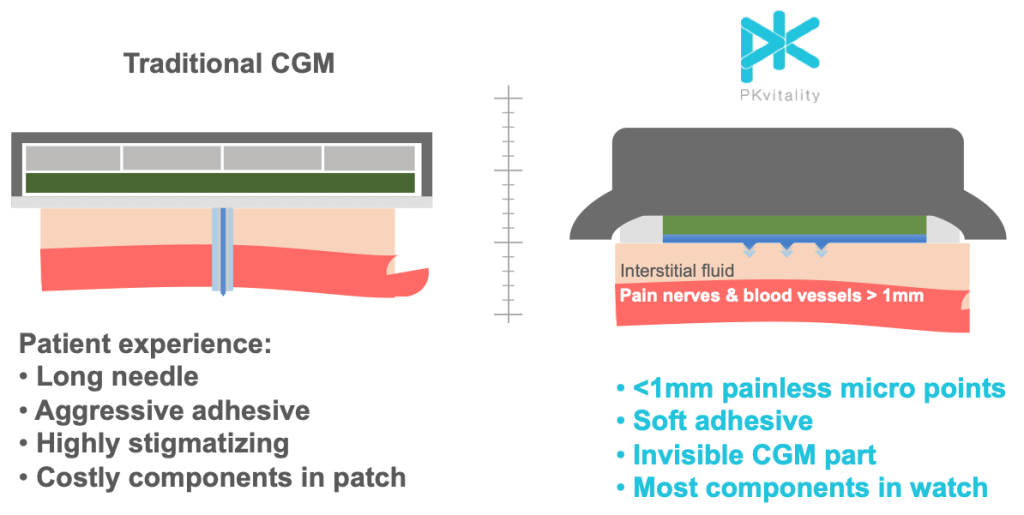 Company Background
PKvitality is a bio-wearable company that was started in 2016 to fast track development of a CGM Watch. The founders have many years of expertise in consumer electronics as well as biological research. They are trying to bring consumer electronic user experience and rapid test/release cycles to the medical world.  They use a lean engineering process to integrate developers around the world.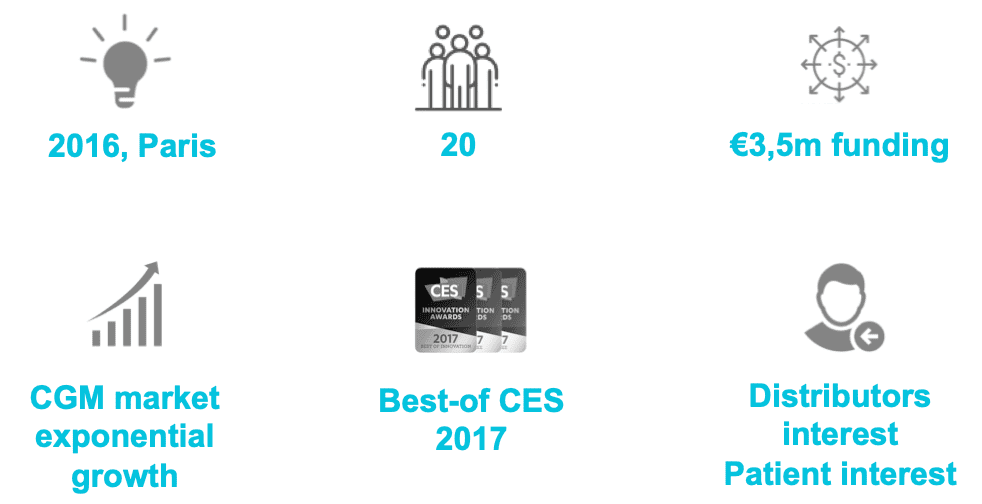 SKinTaste® Technology
The company first created its patented SKinTaste® technology, which is a biosensor array that uses micro-needles (<1mm long) to collect and analyze chemical compositions of the interstitial fluid found just below the surface of the skin.
This groundbreaking technology has the ability to analyze key physiological markers by simply "tasting" the skin rather than analyzing blood samples.
The company is initially launching a glucose monitor, K'Watch Glucose, as well as K'Watch Athlete, a device that allows athletes monitor their lactic acid – an indicator of muscle fatigue – to significantly improve training and performance.
Next Steps
PKvitality is wrapping up another round of investment which will fund its clinical trials and product rollout plans. Most of the investment to date has come from angels, plus company founders Luc Pierart and Minh Lê.
The expected timetable for their clinical trials in Europe is 2020 followed closely by US trials.