Treatment
JDRF Open Protocol — Path to Better Future
Aaron Kowalski on the Open Protocol Initiative and his vision for iPumps, iCGMs, and iControllers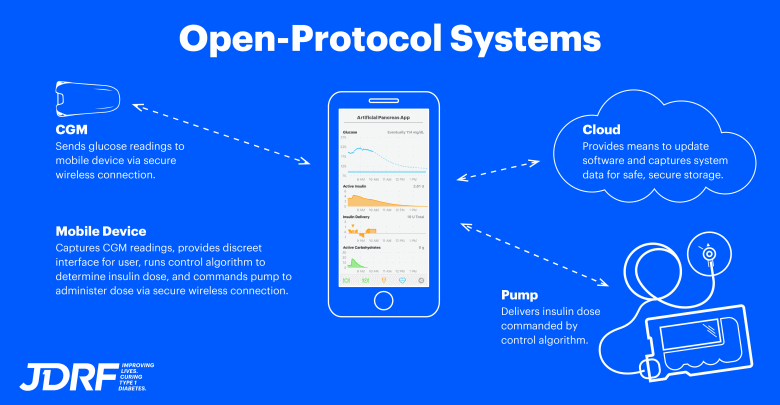 In 2018, JDRF celebrated the first anniversary of its Open Protocol initiative to support the development of automated insulin delivery systems, including artificial pancreas (AP) algorithms, continuous glucose monitors (CGM) and insulin pumps.  The goal is to increase the ability for these devices to "talk" with one another, regardless of whether they have the same manufacturer.
We spoke with JDRF Chief Mission Officer, Aaron Kowalski, about the Open Protocol Initiative and his vision for the future.
Address True Barriers
I started using an Open Loop system almost three years ago to get firsthand experience with DIY solutions.  I use loop.  
There is clearly a large unmet need being addressed by these DIY systems.
When a friend offered to sell me an older model a DIY-compatible pump it caused me to ask:

'What would it take to get this powerful data-driven movement "above the table" and using modern pumps and other components that were authorized by FDA?'"

The Open Protocol Initiative is the answer to that question.  
While recognizing the continued importance of proprietary systems that can improve outcomes and reduce the burden of T1D, the goal of the Open Protocol Initiative is to create more types of closed-loop solutions for people with diabetes and remove barriers so innovation can happen more quickly.
FDA Has Been a True Partner
The FDA gets that the benefits from hybrid closed-loop are real.  JDRF spent more than $100 million to prove that these systems are safe and people get improved health — more time in range, better A1Cs, better sleep, etc.  
The hybrid closed-loop system is the best option we have until there is a biological solution.
The FDA has demonstrated that they are a strong supporter of hybrid closed-loop systems:
The FDA approved the Medtronic 670G two years ahead of its approval in Europe.  

The FDA approved the

t:slim X2 Insulin Pump with Basal-IQ Technology.

The FDA created the iCGM designation, granting it first to the Dexcom G6, making it the first CGM to be interoperable with insulin pumps, AP algorithms, and mobile apps.
The iCGM was a milestone because it clearly defined the boundary between CGM functions and pump functions and provided a more streamlined approval process for CGM/pump integrations.
TidePool Loop, the first iController
JDRF and The Helmsley Charitable Trust are supporting TidePool's effort to transform Loop into an FDA approved app-based pump controller (See Insulin Nation article about $6 million grant). This is purely software and I hope it is the first of several algorithms approved by the FDA, perhaps including algorithms from such excellent groups as Type Zero and the Hovorka Group at Cambridge, Dreamed, etc.
A Future of iPumps, iCGMs, and iControllers
The next 18-months will be exciting because I anticipate we will see Tidepool Loop approved and commitments by a number of CGM and pump companies to support it and open data communications.
While some companies may use proprietary communications protocols for their systems, there will be competitive pressures on all firms to adopt open communications and 'plug and play' integrations.  
I anticipate that:
We will see many exciting hybrid closed-loop systems coming to the market such as, Bigfoot, Tandem, Insulet, Roche, and BetaBionics and we hope that many of them will adopt open communications as well

Other CGMs such as Abbott, Senseonics, and Medtronic will obtain iCGM designations.  See Insulin Nation

article

on Senseonics.  

The FDA will clear one or more iPumps
Firms that receive 'I' designations for their pumps, sensors or algorithms won't have to build a complete ecosystem. The cost to bring interoperable systems to the market may be much lower because they can integrate easily with other components to create complete systems.  
For example, JDRF is providing funding support to SFC Fluidics to develop a patch pump with open-protocol communication.  In the next year or so, this pump will come to market and it could be the iPump component of a hybrid closed-loop system. See Insulin Nation an article about SFC Fluidics.
Early adopters, like me, will have more and more options and we believe others will be attracted to these innovations and their potentially lower costs.
All Boats Rise
JDRF is focused on Type 1 Diabetes but it is a diabetes truism that 'Data Drives Treatment.'  It is a crime that the standard of care for Type 2 Diabetes does not include glucose measurement and relies solely on A1C.  
People with T2D could gain tremendously from CGM feedback integrated with a smart pen and an insulin dosing algorithm. See Insulin Nation article on Basal Insulin Management.
Most people could probably get to the right dose of insulin (and other diabetes drugs) within two weeks rather than two years.  This would radically improve each person's health trajectory two years earlier in their life.