Treatment
Endo Shortage, New Cell Therapies, Strip Rationing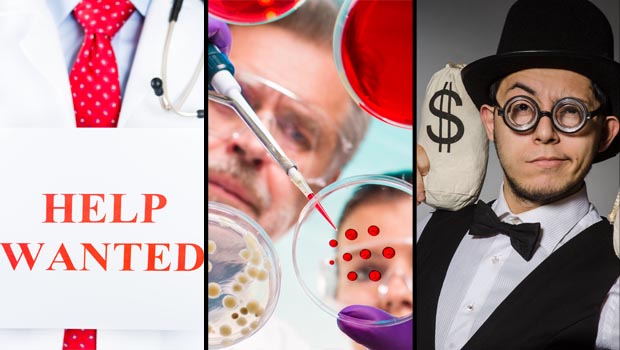 Endos Wanted
Wait times to see an endocrinologist might grow in the next decade, according to researchers from the Endocrine Society. In the Journal of Clinical Endocrinology & Metabolism, researchers predict there will be a shortage of endocrinologists for the next decade, that is unless the number of new endocrinologists grows by 14% every year. Currently, there is a shortage of 1,500 adult endocrinologists and 100 pediatric endocrinologists in the US, according to an article in Medical News Today. The shortage can be attributed to growing demand and low compensation rates for services, researchers said.
Repurposed Cells
Columbia University researchers have found a way to retrain human gastrointestinal cells to produce insulin, according to a report in Bioscience. Using a stem-cell-created model of a human intestine, researchers turned off a single gene in gut cells to "teach" them to produce insulin under certain physiological conditions. This technique also was done successfully on mice by the same researchers in 2012; the retrained cells produced insulin and restored blood glucose levels in the mice to near normal levels.
Islet Cell Transplant Success
A team of researchers write that they were able to successfully use islet cell transplant therapy to help a small group of people with Type 1 diabetes gain insulin independence and avoid severe hypoglycemia. According to an article in Medscape Multispecialty, the federally-funded study focused on 48 people with Type 1 diabetes who routinely experienced severe hypoglycemia and also had developed hypoglycemia unawareness. After a year, half of all patients who underwent the procedure and were given immunosuppressive medications were still insulin independent, and 94% showed some signs that their bodies had integrated the transplanted islets. The national study was able to create successful standardized protocols for islet therapy transplants in multiple transplant centers across the country.
Challenging Medicare
A young man with Type 1 diabetes has launched a Change.org petition to get Medicare to rethink its test strip rationing. 27-year-old Max Morneault is on Medicare because of a disability unrelated to his Type 1 diabetes. He has launched a petition to ask Congress to reconsider the limits Medicare imposes on reimbursement for test strips, saying the current limits don't provide enough strips for people with diabetes to achieve good blood glucose control. So far, more than 56,000 people have signed his online petition.
Nice Work if You Can Get it
If you use insulin you soon will have more company, if an insulin company's growth expectations are to be believed. Insulin manufacturer Novo Nordisk is projecting a growth rate of 10% a year, according to a report in MedCity News. A senior company official is predicting the company's revenue will double in the next decade, thanks largely to the increasing number of people on insulin therapy each year. While this may at first glance look like another example of drug companies getting more and more profits, there is a silver lining: more people on insulin therapy inevitably leads to more research and innovation of insulin therapy.
Thanks for reading this Insulin Nation article. Want more Type 1 news? Subscribe here.
Have Type 2 diabetes or know someone who does? Try Type 2 Nation, our sister publication.