Pumps
Tandem and the Future of Pumps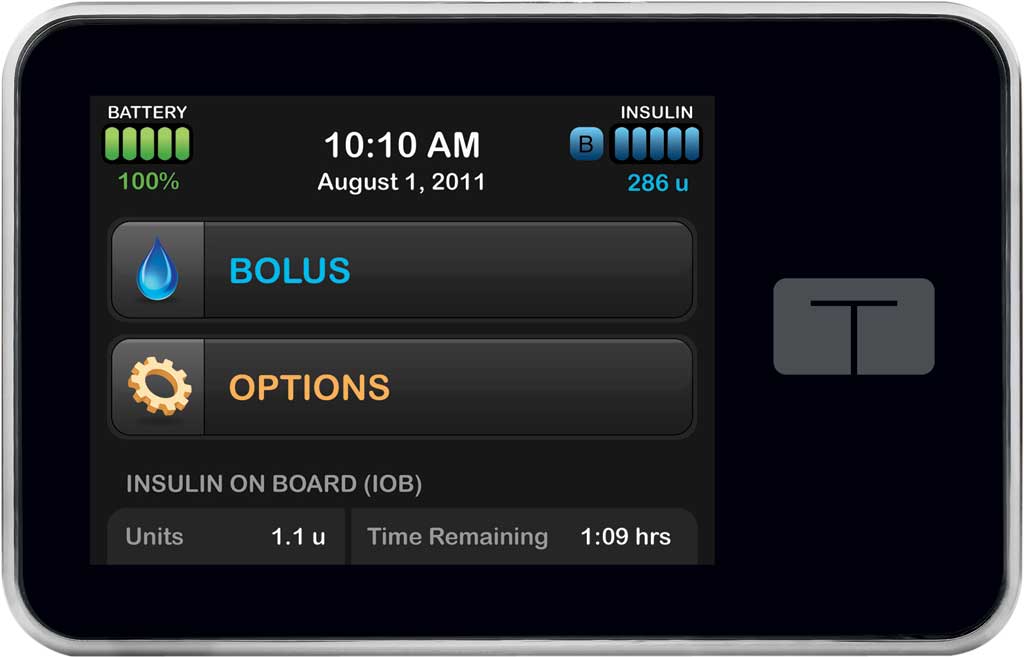 For 35 years, the City on a Hill that represents the possibility of untold riches from insulin pumps has glimmered on the horizon, tangible but unreachable. To be sure, several companies among more than 30 pump-maker start-ups have made tidy profits, either from developing today's pump technology or from selling their ideas and products to larger companies. But the visions of glory that AutoSyringe generated among investors and marketers when that company announced sales of 600 pumps per month in 1978 have never been fully realized.
At least, not yet. The fact that two Fortune 100 companies — Medtronic and Johnson & Johnson — dominate the insulin pump market doesn't discourage entrepreneurs. In fact, maybe the notion that mice can scare elephants is precisely what drives the start-ups. Starting another pump company, said Kim Blickenstaff, Tandem Diabetes' CEO, "looks like a really bad idea when you sit down and listen to the experts. But if you sit and talk with just five people about their pumps, the opportunity becomes crystal clear."
Blickenstaff's colleagues and backers hope that he can do for insulin pumps what he did for in-home pregnancy tests and hospital-based cardiac diagnostics: build a business using innovative technology worth hundreds of millions and make them all rich, or richer. Right now, their hopes are pinned to the t:slim, the first insulin pump with a touch-screen interface and a footprint about the size of a credit card.
The Once, and Future, Opportunity
Properly used, pumps help people with diabetes who depend on external insulin do a better job of controlling blood glucose than syringe injecting does. That's a clinically proven fact, not merely a marketing claim, and it's backed up by the landmark "Diabetes Control and Complications Trial" study released way back in 1993. In 1998, another survey of doctors and CDEs who had Type 1 diabetes showed that professionals' adoption of pumps was 10 times that of the total T1D population. Surely, it seemed, widespread use of the devices by those who knew the most about treating diabetes would trickle down. This looked like a blockbuster technology in the making.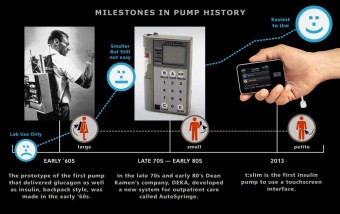 Fast-forward 15 years to 2013, and insulin pumps are a nice business, but hardly a blockbuster one. More than six million people in the U.S. now use insulin, yet there are perhaps 300,000 to 400,000 pumps in the marketplace. Because more Type 2s now use insulin, either due to a pooped-out pancreas or aggressive attempts by prescribing doctors to quickly get high glucose levels under control, the market potential is bigger than anyone dreamed of in the early days. Yet, with all that going for it, and innovative new products in the marketplace, such as Insulet's OmniPod, all the insulin pumps have captured perhaps a quarter to a third of the Type 1 population in North America. These are the people who HAVE to use insulin; penetration levels among millions of insulin-using Type 2s are much, much smaller. Somewhere, somehow, the blockbuster hit a roadblock.
Rabbit Ears in the Time Of Cable?
Blickenstaff thinks he knows why pump adoption has been slower than expected. In thousands of interviews with users of existing pumps, his team at Tandem found that "they loved the therapy but hated their pumps. The insulin pumps they're using were developed in the 90's, use 90's interfaces and 90's displays and 90's software architecture and people hate it. "That came through loud and clear to me," he said.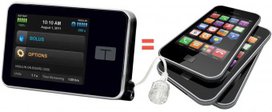 The iPhone and iPad may be partly to blame. Working with many fewer constraints, and shorter times to market than those faced by makers of medical devices, the nice folks in Cupertino have revolutionized user experiences and expectations for other portable devices. By comparison, most existing insulin pumps just seem, well, old. They're a bad match for a majority of Type 1s, many of whom are adolescents, or relatively young adults, exposed to slick technology all day long at school, in the workplace and at home.
Garbage In, Garbage Out: Preventing User Errors
The first thing a user will notice about t:slim is its touch-screen user interface. It is the first device approved that incorporates the FDA's new guidelines about using human factors engineering in the design process. FDA studies showed that more than half of all medical mistakes (incorrect doses, for example) made by pump users result from errors when entering instructions. "The FDA found that it was not because the user intentionally made a mistake," said Blickenstaff. "It was because the user interface invited them to make a mistake. So they wanted us to design out — using confirmation screens and other things — any chance of making an input error."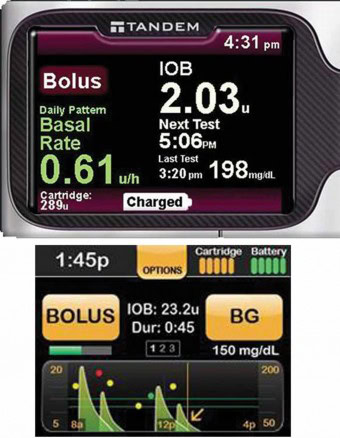 Tandem pins much of its hopes for t:slim on the quality of its research, which helped its engineers create an easy-to-use interface that reduces the chance of human error. If sales take off, the company will owe a lot to Noel Schaeffer. Armed with a Ph.D. in human factors psychology from the University of South Dakota, he arrived at Tandem about two and a half years ago as the company's "army of one" interface experience expert. You might call him the "Department of Error Prevention."
"Human factors were always in the guidelines," Schaeffer revealed. "It's just that the FDA unburied them recently. The science of human factors has been around for a long time." An example is the aerospace industry, where faulty inputs can cost lives, as well as millions of dollars. Pilots don't learn to fly a jumbo jet by taking it for a spin. They train in simulators.
"I think the medical device industry's eyes are opening to the way they can leverage information about how people use products not only to make safer, more effective devices, but also make them easier to use," Schaeffer pointed out.  In practice, this meant that he designed studies, recruited pump users, through doctor's offices and independent hiring agencies, and then ran small group sessions of four to eight people who would be shown the latest iteration of t:slim and invited to use it. At least 10 different versions of t:slim were shown to research subjects. Video cameras recorded every action of the testers, often from several angles, and sometimes the engineers whose work was being tested watched from behind a two-way mirror. "To have the project team in that observation room, so they get a real sense and understanding of how people are interacting with the screens, is very important," said Schaeffer. "A lot of disconnects come from engineers and designers creating things in a bubble, with no understanding of how people actually use their devices. That can lead to a lot of pretty substantial design flaws."
Schaeffer pointed out that diversity among test subjects was also important. "We were very careful to ensure that they covered a broad age range, a good mix of males and females, and experience levels. We had some participants that had virtually no pump experience, and were managing their therapy with multiple daily injections, all the way up to people who had been pumping for 15 years or so," he said.
The final, or "summative" study presented to the FDA put 65 people, divided into three groups of different ages, through a 90-minute training session and then sent them home with a digital logbook — a replica of the t:slim screen — into which they entered information for three days. The subjects weren't actually pumping insulin, but going through all the tasks a person using t:slim might perform. Every function was tested, and each entry recorded and observed. Over 72 hours, the 65 testers completed about 6500 tasks, and, thanks to the "Are you sure?" screens, returned the logs to Tandem without a single error in their final input.
Hub, Spokes, Dashboards and Water
Much like an iPhone, t:slim's screen prompts rely on hub and spoke architecture. This means that the user is never more than one touch away from the home screen, which displays just two words: "Bolus," and "Options."  "We've removed a tremendous number of keystrokes from your bolus settings, your profile set-up routines, and so forth," said Blickenstaff. "You don't have to pick up the manual to figure out functions like how to set your time. It's obvious."
Confirmation screens are a key part of the user interface. "Before you do a bolus, for instance," said Blickenstaff, "it will replay all the information you just entered — your levels, your carbs, your insulin value, any correction bolus that it's calculating — and ask you if all the information is correct. You look at it again and you hit 'yes.' That eliminates errors."
The t:slim also comes with a rechargeable battery (a charge lasts about seven days) that replenishes itself when plugged into the USB port on a computer. While the device is plugged in, users will be able to take advantage of t:connect, the product's Web-based dashboard.  Still being reviewed by the FDA, t:connect allows users to see, save, and share all the doses dispensed over a day, a week, a month, or longer. Importantly, the screen displays information in exactly the same way both for patient and caregiver, a feature that should seem essential but is not available on other pumps.
Designed to look like a piece of consumer electronics rather than a medical device, t:slim is about 25% thinner than other pumps, has a black aluminum casing, and a chemically-treated screen that resists breaking when the device dropped. Its also water-resistant, having been tested for 30 minutes at a depth of 1 meter.
A Match Made Down the Street
The t:slim is just a baby, but its already betrothed, promised in marriage to Dexcom's G4 Platinum continuous glucose monitoring system. The offices of Tandem and Dexcom are just miles apart from each other in San Diego, but their union has much more to do with similar mindsets about technology and user convenience than geographic proximity. A combined t:slim/G4 product should be unveiled in 2014, using Tandem's screens, Dexcom's sensor, and a common data-reporting system.
The two companies also are active participants in several ongoing artificial pancreas (AP) projects. Tandem has just announced development of a dual-chamber, or bi-hormonal pump, in partnership with the Juvenile Diabetes Research Foundation (JDRF). To be created over the next two years, it will use t:slim's basic packaging but allow users, or perhaps algorithms, to inject both insulin and another hormone, such as glucagon or Symlin, for tighter, even automated, blood glucose control. Tandem's commitment is a highly visible bet on the future prospects, and probability, of an AP.
If You Build It, They May Not Come
Innovative technology is a wonderful thing to write and talk about, but at the end of the day, Tandem is a business whose success or failure will be measured in dollars and cents. Can its launch "move the needle" in overall pump adoption rates? Possibly — but perhaps not soon.
Since t:slim arrived on the market in September 2012, shipments have increased at a slow but steady pace.  Blickenstaff hopes to increase the order volume by 10 times what it is today by Spring 2014. At that level, Tandem would expand its production capacity. In the interim, the company's call center, which is the first responder in the event of trouble with the product, sits right next to the engineering department at Tandem's headquarters. Problems that surface will quickly get referred to a team that can figure out what to do about them.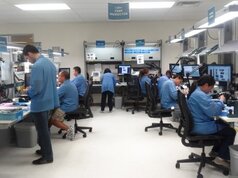 Tandem won't be outsourcing any time soon. "Medical devices change and evolve and your engineers who develop it are a vital resource for the manufacturing people who have to actually make your design over time," Blickenstaff said. "You want them sitting next to each other. You don't want the designers to be up here and your manufacturing in Puerto Rico."
Because t:slim is mostly a digital rather than mechanical product, most future modifications will involve replacing or upgrading software rather than retooling assembly lines. In the future, major improvements in functionality may be possible by simply inserting that handy USB cable into your computer, and downloading a new operating system.
In the meantime, the City on a Hill is still glimmering, off in the distance. Perhaps t:slim will galvanize a new wave of pump converts who have been waiting for something simple and sleek to sail into view. Blickenstaff would love to be part of a sea change. "One of the things that just struck me," he said, "was that only a third of Type 1s use a pump. After 20-some years!  When we dug into the whys and wherefores of that, these issues just came out loud and clear: too hard to use it, too hard to learn it, too hard to learn basal bolus insulin, can't remember how to use it; it's ugly, it's tethered, I hate it."
"I think we're going to appeal quickly to brand switchers," Blickenstaff said, "but my hope is to capture a bigger percentage of the number that switch from multiple daily injections to pumps every year. From our market research, we think we're going to get a fairly good share of that, but we don't have enough data yet to be sure. We were winning their hearts and minds when they looked at the alternatives."
To read more about the advances in pump technology, be sure to check out "Medtronic's Artificial Pancreas Gains FDA Approval" at Insulin Nation.
Thanks for reading this Insulin Nation article. Want more Type 1 news? Subscribe here.
Have Type 2 diabetes or know someone who does? Try Type 2 Nation, our sister publication.