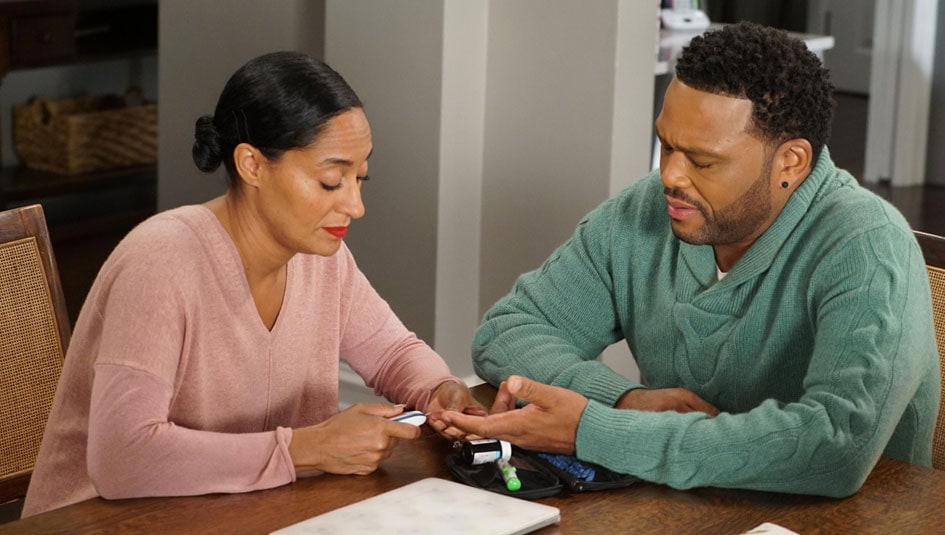 When I thanked Anthony Anderson and Novo Nordisk's Michael Bachner for making time available for a telephone interview on January 4, Mr. Anderson came back with "I had no choice, Jim. I'm somewhere near Princeton, New Jersey in a snowstorm." It had already been a busy day for them at Novo's U.S. headquarters, soon to get busier, built around a presentation to the staff introducing them to the Get Real With Diabetes campaign. This was three 'lleks following the broadcast of the black-ish season finale "Sugar Daddy" on ABC. Soon we'd be off the outline I'd sent the evening before (thinking to save Mr. Anderson some time). We were still talking twenty minutes after our scheduled slot ran out.
"This is a labor of love for this company," Mr. Anderson said. "You know, it started with a guy who wanted to help out his wife with her diabetes."
If you had caught our heads up piece published on December 7 and tuned in the following Tuesday evening, then you were treated to Mr. Anderson's character Dre Johnson narrating at the top of the episode. It led with the D Word, in unsettling and prominent black and white block letters, followed by an animated, yet uncommonly frank, explanation why T2D has become so prevalent among black people, twice as likely, Mr. Anderson's character says, as for most people.
"Diabetes is linked to obesity, poor diet, and inactivity," the narration continues. "It's not all our fault, but it's hard to be fit living in a food desert (pictured with pop-ups of a piled high fast food burger, a pink frosted donut, a slice of pizza, and a hot dog) with no decent health care or gym. And when do we have time to exercise holding down two jobs?"
Uncommonly frank because we'd tuned in to a sitcom that features supporting characters who appear to be a bit untethered from reality, as is sometimes Dre Johnson himself. We wanted to know what had gone in to crafting the show's introduction, and how much of a hand Mr. Anderson had had in it.
"Total creative control. That was one hundred percent of me, and we had folks from Novo Nordisk on the set to check, and my endocrinologist available in case anyone had questions."
Before long we were talking about the doctor's office scene when Dre gets the news. It reminded me, I said, of the day I found out I had T2D, and how I'd reacted (denial or something like it). But more importantly, and for men especially, the show had made a serious point, I thought: the three-year stats from the Centers for DIsease Control and Prevention reaffirm that within a year sometimes, men start missing appointments, stop testing, and stop refilling their medications.
"That was a part of it. Look, you and I, we've both been there. We think 'I got this, I can handle this on my own.' But I want to tell people they've got to listen to their doctors … to go to the doctor."
Mr. Anderson told the Los Angeles Times in 2013 that he'd hit the trifecta in college — T2D, high cholesterol, and high blood pressure. As a kid he'd "played every sport except lacrosse and hockey .. loved football and basketball but also played baseball and did a bunch of track and field. The extra weight started when I was in college and I was living on my own. I was still active playing basketball but not as much as I was in high school. I was cooking and eating when I wanted. I mean, it was college."
And now?
"People say to me, 'well, you're on TV, you can afford a trainer' and all that. Yes, I did work with a trainer (and a nutritionist to get weight down when he'd decided to get back to his self-care routine), but you can just walk around the neighborhood swinging a big soup can in each hand, and you can still get exercise."
When Mr. Anderson's father died of a pulmonary embolism as a complication of advanced diabetes, the doctors determined he had probably gone as long as twenty years undiagnosed. People in those days didn't have the knowledge we have now, he observed, and I told him that in my family, all we kids knew was an aunt had "sugar diabetes" and had to have shots and couldn't eat bread but an uncle hadn't caught as bad a case of diabetes and he just took pills for it.
"For us it was 'the sugars,' you know, 'hey, he's got the sugars now.'"
So where had the idea to work with Novo come from, I asked. Was it his idea or had it been brought to him?
"We'd started the Anderson Family Foundation. Diabetes is one of our charities. I was with a friend who's at Morgan Stanley and asking how we could do this. And he said, 'Hey, I know some people you ought to be talking with.'"
Novo Nordisk liked the idea of a television comedy series to transmit a serious message to people with a serious, but manageable, illness, and to do it, as Mr. Anderson described it, "disarm them with laughter."
"I'm married to a family physician (Dre Johnson's wife Rainbow, played by Tracee Ellis Ross, is a physician, and it's she who gets him over his lancet and injector pen phobia) and she laments how many patients ignore the 'if you don't change you're going to die' warning."
People who employ their celebrity and their influence and share their experience and strength for good, as distinguishable from people who like to publicize the trivia of their lives to gain celebrity, really do give hope to others, and get inducted into the SelfRx Hall of Fame. We've written about elite professional and amateur athletes: Craig Idlebrook digs baseball players and I dig Californian Charlie Kimball, a Formula One driver who has rigged his cars so his pit crew can monitor his BG levels via wireless in real time (when he isn't battling wildfires near his parents' home), and Luke Rosser, a national youth record-holding Florida ironman and rising star in legislative advocacy on behalf of JDRF and the American Diabetes Association. We're humbled, and inspired in our work here, by kids like softball player Lundyn Cox out of Mustang, Oklahoma, who wouldn't be told by text message that she was a "liability" to her team, and fired her coach, and refuses to ride the pine. We've written about an associate justice of the Supreme Court whom a president is counting upon to retire because she has diabetes BAD … VERY BAD!!! And we tip our ADA Stop Diabetes Logo caps to D-Moms and Dads who won't abide with ignorant, intransigent school boards.
You, too, can elevate your daily work of "taking care of the sugars" to the elite class. You can join Get Real's web community and help carry the flag. You can connect with the 4,500 people who follow the T2N Facebook Page, and send us your story at editors@selfrx.com.
Editor's Note: SelfRx earns no consideration from Novo Nordisk, the Disney-ABC Television Group, or any other party associated with black-ish or its producers for this article. Photographs used by permission, and through courtesy of Novo Nordisk. "Get Real About Diabetes" is a registered trademark of Novo Nordisk A/S.
Want more news on Type 2 diabetes? Subscribe to our newsletter here.