Treatment
The Type 1 Tech Roundup – February, 2015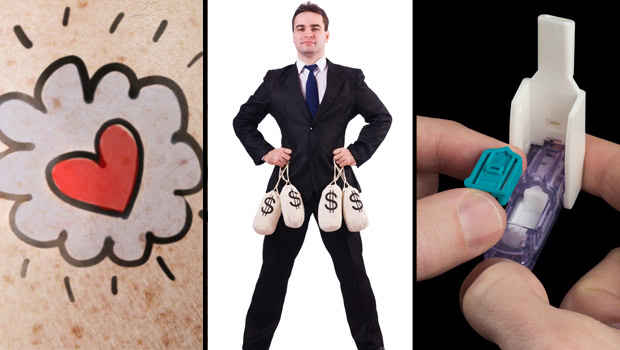 Tattoos for blood glucose readings
There's a promising, but counterintuitive, new strategy to try to do away with finger-pricks: tattoos. According to a MedGadget report, researchers at the University of California, San Diego tested a new glucose-sensing temporary tattoo with positive results. Through a process called reverse iontophoretic extraction, the device is able to detect glucose within the skin's interstitial fluid. The printed tattoo is flexible, sticks to the skin, and is only the width of about two fingers. It should be noted, however, that the research has only been tested on volunteers with functional pancreases. No timetable has been given to test the temporary tats out on people with diabetes.
Dexcom does well for itself

Dexcom has long been held by many in the Type 1 community as the gold standard for continuous glucose monitors. Apparently, being the gold standard earns you a lot of gold, as well.
Continuous glucose monitor maker Dexcom finished up a fantastic fiscal year in 2014, with revenues up by 64% compared to the previous year. The company's new President and CEO Kevin Sayer shared that Dexcom's patient base grew by more than 50% in both the U.S. and in international territories, according to a Fierce Medical Devices report.
Dexcom is currently working to make its continuous glucose monitors (CGMs) compatible with Apple's iWatch, and it recently introduced a software update that allows users to share glucose reading levels with spouses, parents, or doctors. Sayer projects that the company's revenue growth in 2015 will land somewhere around 35% to 40%, reaching anywhere from $340 million to $360 million in revenue.
Medtronic and Covidien merger
We'll soon whether a bigger Medtronic will mean better diabetes care.
According to a Fierce Medical Devices report, shareholders from both Medtronic and Covidien have approved the merger of the two pharmaceutical companies, both of which make insulin pumps. Securing votes from shareholders was one of the final obstacles facing the merger. Despite regulators' skepticism of the merger, which many see as a possible tax dodge to shift Medtronic's headquarters to Ireland, Medtronic CEO Omar Ishrak states that the agreement "will allow us to treat more people, in more ways and in more places around the world."
With the completion of the merger resting on the shoulders of the Irish High Court, which must review and approve the union, it may still take several weeks to finalize the transaction. But if all goes as planned, Medtronic will have a new home office in Dublin by the end of January or early February.
Mannkind/Afrezza CEO out

2014 was a banner year for Mannkind Corp., which saw its breathable insulin product, Afrezza, finally receiving FDA approval. Now founder Alfred Mann has decided the company is in a good enough place for him to resign as CEO. According to a LA Times report, Mann has stated that his replacement will be Hakan Edstrom, who has acted as both president and a board member since 2001.
With Sanofi acquiring the rights to sell Afrezza last August, the 89-year-old MannKind founder decided that the interim period between FDA approval and Afrezza hitting the market was a good time to step down. He will stay on and work as an executive chairman for the company. Sanofi is expected to announce a February launch-date for the product.
Thanks for reading this Insulin Nation article. Want more Type 1 news? Subscribe here.
Have Type 2 diabetes or know someone who does? Try Type 2 Nation, our sister publication.