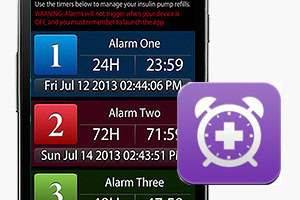 Derek Stewart and Jill Ramsay are working parents of 4 children under 12 years of age, and they face all the ordinary scheduling and logistical challenges that come with a large family. But diabetes adds a new level of complications, as 2 of the children, Harrison (age 10) and Hayden (age 8), are Type 1s. For this family, organization is a must to keep the boys' diabetes under control.
Remembering when to change their infusion sets is one of the many logistical challenges the family faces.  The task is made all the more complex because diabetes affects Harrison and Hayden differently, Derek says. Both boys use Medtronic pumps to manage their diabetes, but their insulin needs can be quite different.
"Exercise doesn't have much effect on Harrison's glucose levels," says Derek. "But Hayden's blood sugar can drop as much as 75 points after just 10 minutes of play."
In the course of his work, Derek sometimes consults with MediaSpark, a software development, publishing, and"gamification" company based in Sydney, Nova Scotia and led by Mathew Georghiou. While talking to Richard Lorway, MediaSpark's business development manager, about a different app,  Derek mentioned that what he really wanted was a simple smartphone app to remind him when to change the boys' pumps.  The idea resonated with Lorway.
"Being an app developer, we said that we could probably do that, and so we looked into it and decided to move on it," he says.
The result is the GoVenture Insulin Timer app,  a portable alarm clock for Type 1 care.  Available for both iOS and Android phone and tablet platforms, the GoVenture Insulin Pump Timer app features 3 alarms that can be set days or weeks into the future.  Stewart uses the first 2 alarms to remind him when to change each boy's infusion site, and the third to remind him to download their pump data every 2 weeks. Because alarms don't always go off when it's convenient, like when driving, the app features a simple one-tap reset or advance command that will remind the user again later.
Although MediaSpark designed the app to help parents manage the diabetes care of more than one child, the app would work just as well for a family with one Type 1 child.  For that matter, anyone whose memory occasionally needs jogging could benefit from the Insulin Timer app's features, as well.
At $3.99, the Insulin Timer App is available in the Apple App Store at https://itunes.apple.com/us/app/goventure-insulin-pump-timer/id689231625?ls=1&mt=8 and in the Android Market at https://play.google.com/store/apps/details?id=air.com.mediaspark.InsulinTimerAndroid
Thanks for reading this Insulin Nation article. Want more Type 1 news? Subscribe here.
Have Type 2 diabetes or know someone who does? Try Type 2 Nation, our sister publication.