Research
The Bionic Pancreas, the Medtronic Duo, & Pump Wars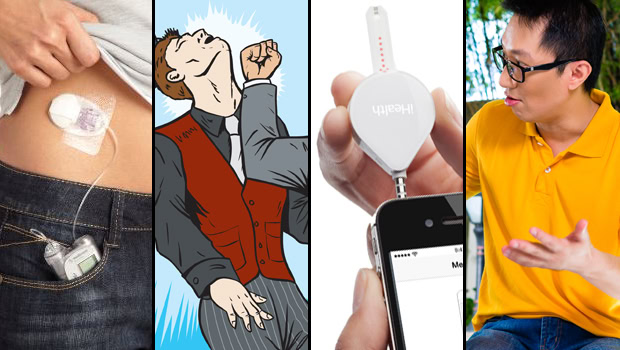 Europe Gets a Dynamic Duo
The experimental is going mainstream in Europe, as Medtronic announced it has gained approval from European regulators to sell the Duo, a connected insulin pump and continuous glucose monitoring system. From the way it's described in Fierce Medical Devices, the Duo sounds a lot like the pump-CGM combo that some researchers are testing in their quest to  develop an artificial pancreas system.  The Duo does lack Medtronic's Threshold suspend technology, which would automatically stop insulin delivery when a low is detected.
And now comes the part where we wait for the Duo to come to the U.S.
Reaching the Undiagnosed
University of Cambridge researchers seem to have discovered a low-cost way to detect diabetes in underserved populations around the globe. The researchers have employed nanotechnology to create a sensor that changes color when it comes into contact with high concentrations of lactate and glucose in saliva, urine, and blood samples. In university trials, the sensor proved more accurate than test strips read by an automated strip reader. The sensor also is reusable for some 300 tests, making it a more affordable option in countries with limited health care resources.
The new device will be field-tested in Ghana later this year.
The Pump Wars Just Got Real!
The competition is heating up for insulin pump supremacy, with one major pump manufacturer taking a page from cell phone service providers to lure customers away. Medtronic is offering a $500 bounty if you trade in your Dexcom G4 Platinum to try the MiniMed 530gG pump. Tell why you made the switch in an interview, essay, or video and they will credit you another $300.
Kudos to Diabetes Mine for getting the jump on this story.
Getting Under Your Skin
Venture Beat News reports a company developing a long-term implantable continuous glucose monitoring system (CGM) has just gotten a big infusion of cash. Senseonics announced this month that investors have ponied up $20 million of additional investment for the promise of an implantable CGM that can talk directly to a smartphone app.
It doesn't seem a coincidence that this capital flowed shortly after Apple announced it was planning to make all health data accessible and interconnected.
Tiny Data
iHealth has announced it has won FDA approval for the smallest glucometer in the U.S. marketplace. According to medGadget, iHealth's Align isn't just small; it's also smartphone-ready: the device plugs directly into the headphone jack of an iPhone or Android-powered phone. Test readings can be stored and analyzed through a phone or tablet's touch screen. Data also can be shared with the collective hive brain of your health care providers and family members.
Joslin Geeks Out
It's been a busy June for the the Joslin Diabetes Center in Boston. First, Joslin officials announced the creation of the Joslin Institute for Technology Translation (or JITT for short), with the aim of translating Joslin findings into tech solutions that make life easier for people with diabetes. So far, Dexcom and Tandem have already jumped on board to support JITT, and JITT officials announced it has already formed a partnership with Glooko to launch a hypoglycemia awareness.
A start-up venture this is not.
Nagging, in a Good Way
From personal experience, a web developer with Type 2 diabetes thinks people with diabetes might sometimes need a good kick in the butt to keep blood sugar levels in check, and he's developed a free app for just that. According to an article in A Sweet Life, Herb Meehan created Lifebringer, a web-based app that not only tracks and monitors blood sugar readings, but also provides encouragement and gentle nagging to keep you on track to meeting your A1C goals. Lifebringer comes with a built-in Nagbot to keep users on track with text messages; Meehan is using a Kickstarter campaign to keep the app free for all.
Closing the Loop
You might have already heard this, but it was announced recently that a truly closed-loop bionic pancreas did well in human trials that included real-world conditions. According to the New York Times, Boston University researcher Ed Damiano and his team of researchers monitored 20 adults hooked up to an artificial (bionic) pancreas system that pumped glucagon and insulin and automatically adjusted to keep blood glucose levels at a good level. The adults were monitored constantly in a hotel by nurses. The researchers also hooked up 32 teens to the same system and set them loose in a diabetes summer camp. The teens on the experimental system needed to correct half as much for hypoglycemia as a control group of teens on pump therapy. Adults on the system also experienced fewer lows.
Thanks for reading this Insulin Nation article. Want more Type 1 news? Subscribe here.
Have Type 2 diabetes or know someone who does? Try Type 2 Nation, our sister publication.