Treatment
Better Insulin Dosing via Machine Learning
Treating T1D is complex and Quin is collecting the data to do it better
We spoke with Cyndi Williams, Co-Founder and CEO of Quin — https://quintech.io — about their Insulin Intervention Taxonomy and how these data sets produce better T1D insulin dosing recommendations.
Quin believes that self-care T1D insulin-dosing strategies derived from each individual's previous experiences are way ahead of general medical science and practice.  
Each person learns over time and seeks to optimize their insulin dosing based on a number of factors, including not only foods they have eaten, insulin sensitivity and insulin-on-board but they often consider factors such as their recent sleep and exercise, stress levels, sickness, menstruation, and altitude.
Quin's core mission is to systematically formalize and classify this decision data to enable better future decisions, and stratify people according to their decisions and outcomes for more personalized medicine.
Video: What is Diabetes, What Causes Diabetes
App Research Platform
Quin is building an insulin management app that helps people make quick decisions to manage food and activity by tracking what may be affecting them, and recalling what's worked for them in the past.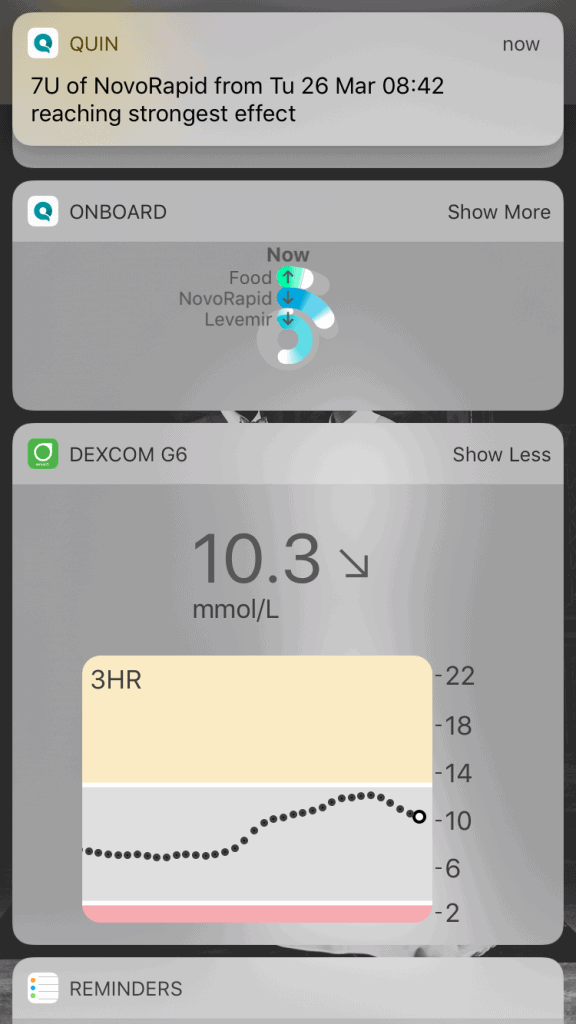 For regulatory reasons, the app runs only on an iPhone and it integrates Dexcom CGM data via the Apple Health app.  
To get the app, you apply to Quin at https://quintech.io/apply/. 
Today only people who live in Europe can apply but later this year Quin expects to start the process for FDA approval which will allow them to onboard people from the US.  
In total, 50 people are using the Quin app today and this is growing quickly and is expected to be 100 by the end of June 2019.
Selection criteria to get the app include:
Must be using a Dexcom G5/G6 CGM

Must have an iPhone

Must be using MDI therapy – pumps aren't supported yet
A CGM is critical because Quin's algorithms need frequent BG data and wireless BG meters don't supply enough data points to evaluate outcomes of individual decisions.  
Integration with pumps is coming.  In particular, Quin is interested in integrating with Tandem based on Tandem's recent ACE designation from the FDA — See article.
Roll-out Plans
Quin expects to launch a commercial version of its app by the end of 2020.   This version will not provide insulin-dosing recommendations.
Rather, it will highlight the user's best past decision in a similar circumstance and let the individual make the actual dosing decision.  This app will be sold directly to consumers for about £10/month.
Quin hopes to demonstrate efficacy to the FDA in 2-3 years such that the app can provide insulin-dosing recommendations.  This regulatory process will begin late this year so that journey is just starting.
In time, Quin anticipates licensing its data sets and algorithms to firms that produce closed loop systems.  
"Today, closed-loop systems use pretty simple carb ratios and insulin sensitivity measures, and there's so much more to consider." said Cyndi Williams, Co-Founder and CEO
Company
Quin describes itself as a mobile medical app and biodata company that formalizes and leverages the experience of people with insulin-treated diabetes to develop machine learning algorithms that provide personalized self-care guidance and advance diabetes research.
Founded in 2014 and based in London, England, Quin has raised £1.3 million from angel investors, and Innovate UK.
Video: Innovate UK Investment in Quin
The company is in the process of raising its next round of financing and is also initiating partnerships with payer/providers. They encourage investors and potential partners to get in touch.
"We see the US as being very receptive to our user-led approach to machine learning in self-care technology.  Both individuals and payers are encouraging us to enter the US market," said Cyndi Williams, Co-Founder and CEO