Research
Pump Power, Apple Wearables, Implantable CGMs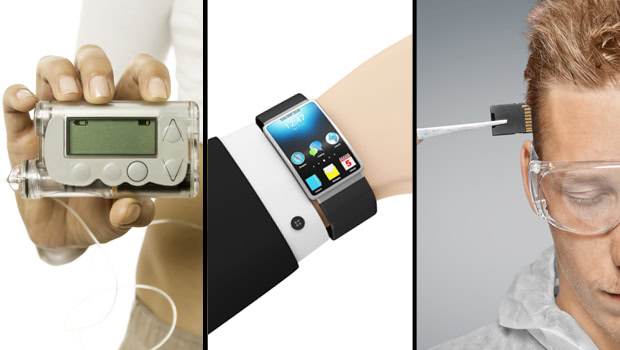 Pumps Win Over MDI?
Swedish researchers have found that insulin pump users have better medical outcomes than those who use multiple daily injections. In a study that followed more than 18,000 people with diabetes for an average of close to 7 years, it was found that pump users experienced a 29% lower risk of fatality and 43% lower risk of fatal cardiovascular disease over those who used multiple daily injections, according to a report in Physicians' Briefing. The researchers did not go so far as to say that the pump was the indisputable cause for these improved outcomes, however.
The 800 lb. Gorilla Enters the Room
It had been rumored for months, now Apple has formally announced it's jumping into the mobile health marketplace with its iPhone 6 and its Apple Watch. Not only will these Apple devices have capabilities for monitoring blood pressure and calories, the iPhone 6 also has the HealthKit platform, which will allow users to share medical info with other health app makers, according to Fierce Medical Devices. There was no mention yet of plans for glucose monitoring capability with these devices.
Why There May be No iCGM
Apple watchers had long held their breath that the Apple Watch would include a bloodless way to measure glucose. Speculation heightened when Apple hired away engineers from C8 Medisensors, a company working solely on this kind of technology. In an exhaustive report earlier this year, Networld's Yoni Heisler correctly predicted why such a wearable device is not ready for primetime. Talking with former and current employees of C8 Medisensor, Heisler uncovered that there would be big hurdles to a watch that could accurately measure glucose, including the size of the device, sunlight exposure interfering with accuracy, and problems with getting good readings during physical activity. If Apple is going to create a wearable bloodless glucose sensor, Heisler's reporting seems to show that the company has its work cut out for it.
JDRF Bets on Implantable Encapsulation
The Juvenile Diabetes Research Foundation has awarded a $500,000 grant for research on an implantable encapsulation device that releases insulin-producing beta cells in the bloodstream of people with Type 1 diabetes. The grant was awarded to ßeta-O2 Technologies Ltd. to continue work on the device, that would also shield the cells from immune attack. The device, called ßAir, is designed to allow for injections of oxygen to keep the beta cells alive while implanted, and to release beta cells when needed to regulate blood sugar levels. It has been tested on one person with Type 1 for 10 months and has performed well, according to a JDRF press release. The money will allow for further human testing. (Kudos to Insulin Nation contributing writer Ginger Vieira for the scoop.)
An Implantable, Bloodless CGM
University of Miami researchers are making progress on an implantable continuous glucose monitor which doesn't need finger pricks for calibration. To make such a device reality, the researchers have modified a protein to bind with glucose and give off a signal when it does; that signal can then be picked up by remote sensors that translate the information into data on glucose levels, according to a report in Reuters. It might be a while before this hits the market, however, as it still must go through animal and human trials before knocking on the door of the FDA.
Thanks for reading this Insulin Nation article. Want more Type 1 news? Subscribe here.
Have Type 2 diabetes or know someone who does? Try Type 2 Nation, our sister publication.