Research
Path to Better Clinical Trials for T1D Delay/Prevention
C-Path makes progress towards the FDA endorsement of islet biomarkers for improved patient selection in T1D prevention trials
The Critical Path Institute (C-Path) is a catalyst in the development of new approaches including biomarkers and modeling and analysis tools to support clinical trial design and clinical outcome assessments. C-Path forms and leads consortiums that include drug developers, academics, patient advocates and regulators to share data, knowledge, and expertise, resulting in sound, consensus-based science. Patient-level data is used to develop tools and ultimate regulatory endorsement with the FDA and EMA to give drug developers confidence in the acceptance of these tools.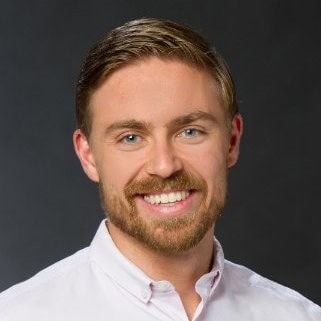 We spoke with Inish O'Doherty, Ph.D. (bio), Executive Director of C-Path's Type 1 Diabetes (T1D) and Transplant Therapeutic Consortium (TTC) following the announcement of the FDA's positive response to C-Path's Letter of Intent and their acceptance into the FDA's Biomarker Qualification Program.  
The Unmet Need
Currently, there are no approved therapies to prevent or delay the onset of T1D and a lack of biomarkers to identify patients and quantify the risk of developing T1D. Decades of research into the natural history of T1D has shown islet autoantibodies to be robust biomarkers capable of predicting a clinical diagnosis of T1D. This is where C-Path comes in. The team intends to use the patient-level data from the studies contributed to its T1D Consortium to evaluate the utility of islet autoantibodies and seek regulatory endorsement of these biomarkers with FDA and EMA as susceptibility/risk biomarkers for clinical trial enrichment in T1D clinical trials.
C-Path's Work  
C-Path's method is to create a consortium of public and private organizations that have a vested interest in improved clinical trial outcomes.  This includes:
Aggregation of patient-level data from relevant T1D clinical studies

Remapping, curation, standardization, and integration of these data into a Clinical Trial Data Interchanges Standards Consortium (CDISC) formatted database suitable for analysis

Analysis of these data to evaluate the relationship between islet autoantibodies and other relevant patient features to conversion to a clinical diagnosis of T1D
"Many trials fail because the participant selection process included a heterogeneous patient population," said O'Doherty. "We aim to enable better patient selection, by understanding sources of variability in disease progression so that the clinical trial can succeed or fail based on the therapy not the design of the trial."
Timeline To Date
March 2017 — The T1D Consortium is formed. It is funded by JDRF, The Leona M. and Harry B. Helmsley Charitable Trust, Janssen, Sanofi, and Novo Nordisk.
August 2017 — Letter of Intent (LOI) for the proposed biomarker qualification project is submitted by C-Path to the FDA.
March 2018 — The FDA responds favorably to the LOI and accepts C-Path into its Biomarker Qualification Program (link)
December 2018 — C-Path announces the FDA's positive response after responding to questions in FDA's acceptance letter; signed legal agreements with key consensus partners including new partner Provention Bio started to obtain critical data sets, and begin to curate the data for aggregation and analysis.  The data sets that will eventually be consolidated and normalized include, DAISY, TEDDY, TrialNet Pathway to Prevention and data from longitudinal studies in Finland and Germany.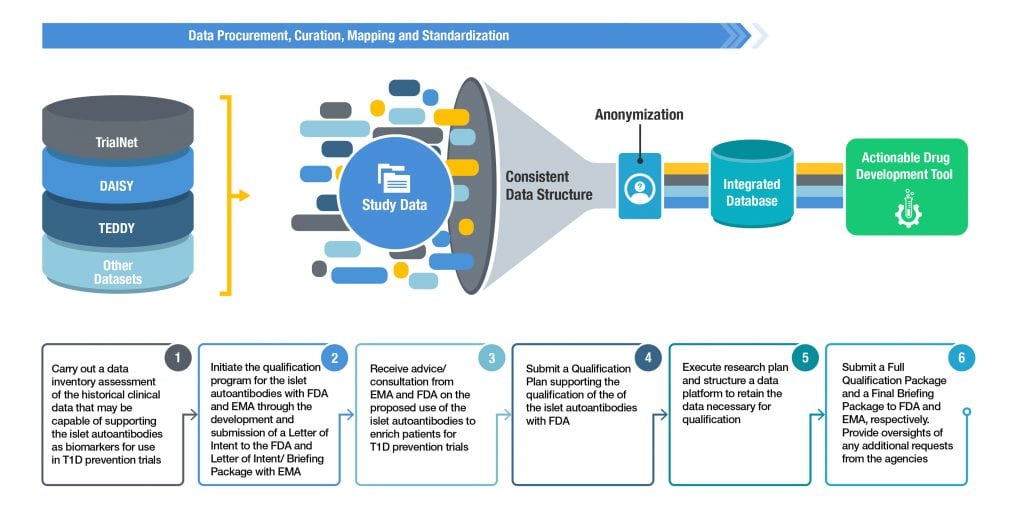 Timeline Moving Forward
The consortium plans to submit the next stage of documents in the Qualification process including the Qualification Package to FDA and the combined Letter of Intent and Briefing Package to EMA in 2019. While these submissions are under review the consortium will continue to aggregate additional datasets that will be used to support the qualification. Once the regulatory agency feedback has been received, it will be incorporated into the final submission documents including a Full Qualification Package to FDA and Final Briefing Package to EMA. The submission of these final documents is planned for 2021 contingent on the length of the regulatory review process.
Related articles:
Yes, Screen your Children for Presymptomatic Diabetes! — https://insulinnation.com/living/yes-screen-your-children-for-presymptomatic-diabetes/
New predictors are a lifeline for families living with Type 1 Diabetes — https://insulinnation.com/research/new-predictors-are-a-lifeline-for-families-living-with-type-1-diabetes/  
Vaccine for T1D in Clinical Trials Soon — https://insulinnation.com/research/vaccine-for-t1d-in-clinical-trials-soon/
How to Detect Type 1 Years in Advance — https://insulinnation.com/research/detect-type-1-years-advance/