Living
Yes, Screen your Children for Presymptomatic Diabetes!
Early intervention can slow disease progression and dramatically reduce DKA risk
We spoke with Marian Rewers, MD, Ph.D., Professor of Pediatrics & Medicine and Executive Director, Barbara Davis Center for Diabetes at the University of Colorado School of Medicine. His Autoimmunity Screening for Kids (ASK) program (link) is now screening Colorado children ages 1-17 for presymptomatic T1D and celiac disease. ASK is the first such screening program in the United States open to all children. TrialNet (link) screens only relatives of people with T1D and does not screen for celiac disease.
Between 1993-2010, Dr. Rewers' team has screened more than 100,000 Denver kids for genes associated with T1D — 35,000 kids with DAISY (Diabetes Autoimmunity Study In The Young) and 76,000 kids with TEDDY (The Environmental Determinants of Diabetes in the Young). These research studies funded by NIH are helping us to understand what is causing T1D. In contrast, ASK is not screening for high-risk genes, but for islet autoantibodies — markers of an already ongoing autoimmune attack on insulin-producing pancreatic beta cells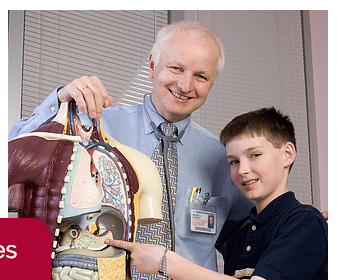 JDRF, The Leona M. and Harry B. Helmsley Charitable Trust and Janssen funded ASK to translate research finding to the population health based on evidence that early intervention can slow disease progression and dramatically reduce the risk of diabetic ketoacidosis, also known as DKA.
Causes of T1D
Something in the environment is causing T1D. The NIH has provided a lot of support to find the cause and great minds are at work and gaining a better understanding. It is clear, however, that the rate of T1D has been growing in the overall population for at least 40 years. The islands of lower incidence are also disappearing. Historically, Scandinavian people had a higher incidence of T1D while Hispanic, African American, and Asian people were rarely affected. This is no longer the case.
Anywhere that T1D registries exist, the rate of T1D is increasing. This includes places as diverse as Poland, Japan, the US, and Australia. A minimum of 1 in 300 children gets T1D and 1 in 100 of all people will experience T1D in their lifetime.
DKA Risk from Late Diagnosis
Today we have more kids with T1D and those kids are sicker upon diagnosis. Historically, 30% of the U.S. kids had DKA upon initial diagnosis while today that number is approaching 50%.
The rate of DKA in US Kids is 2X other Developed Countries
DKA events are scary because half of DKA children end up in intensive care.  Even scarier is that after DKA, kids will generally have higher A1Cs their whole life because DKA wipes their remaining beta cells, robbing them of any 'honeymoon' period and increasing their lifelong struggle with glucose management including severe hypoglycemia. After onset DKA, kids are also more likely to show problems with brain development, memory, and learning.
Having private insurance used to be a factor that substantially reduced the risk of a DKA event in your family. These families got better care and had rates of DKA that compared well with Canada and Europe. Barbara Davis Center team reported that this started to change around 2008 — see the report.
Today the type of insurance no longer explains the rate of DKA events. This change might be due to higher deductibles that cause families to postpone seeking healthcare or increased administrative demands on clinicians that give them less time with each family.
Whatever the reason for the DKA increase, this higher risk puts more responsibility on each parent and screening can help.
Primer on Screening
Timing
Relatives of people with T1D are 15 times more likely to develop the disease than the general population. If your child has a close relative with T1D, TrialNet can screen her/him every year starting at the 1st birthday, until age 18. There are over 200 TrialNet locations worldwide and 160 in North America. See TrialNet locations.
For children without a close T1D relative, ASK recommends screening for islet autoantibodies at any age after the 1st birthday; optimally at ages 2, 6, 10 and 16. This will give early warning of T1D onset for about 80% of children. ASK is currently available only in Colorado.
Early warning is important
If your child has islet autoantibodies you will have time to enroll in one of the available prevention trials to slow or stop the process. This time can also be used to learn about diabetes, understand how to test for blood glucose, and find the best providers in your area. ASK and TrialNet watch participating kids for early signs of high blood sugar and these kids almost never need to go to a hospital when diabetes occurs.
Islet Autoantibodies are Best T1D Predictor
Forty percent of people have genetic markers that indicate autoimmune sensitivity. Thus, genetic testing alone can result in many false positives.
The presence of islet autoantibodies is a much more useful call to action. Half of the children with more than one islet autoantibody will need daily insulin in less than five years. Importantly, for someone with islet autoantibodies, the risk of getting T1D is the same whether or not their family has a history of T1D.
Learning T1D symptoms is critical
Don't miss your child's diagnosis! Here are the symptoms to watch for:
Weight loss despite good appetite may be an early warning
Excessive urination or bedwetting and excessive thirst are classical symptoms
Fatigue and decreasing sports/school performance or blurred vision are common
Nausea or vomiting with the above symptoms means your child needs to see a doctor; You must ask the doctor to test your child's blood sugar, ketones, and A1c
If your child is vomiting, breathing with effort, and getting 'sleepy' – Rush to an emergency room or call 911
Knowing T1D symptoms will help avoid DKA
Screening should be a Public Health Program
The US already does Newborn Screening on all infants to test for about thirty rare diseases. Fewer than one in 600 infants have one of these rare diseases detectable by a blood test.  See the 2008 study.
In contrast, celiac and T1D are very common autoimmune diseases. One in 30 children has autoimmunity that can cause T1D or celiac in their lifetime. If all 70 million US children 1-17-years-old were screened today, 700,000 would be found with islet autoantibodies and high risk of T1D. An additional 1.4 million would be expected to have untreated celiac autoimmunity.
It feels like the right time to establish a public health program to screen for common autoimmune diseases.