Research
Homemade Test Strips, An Eye CGM, the Animas Vibe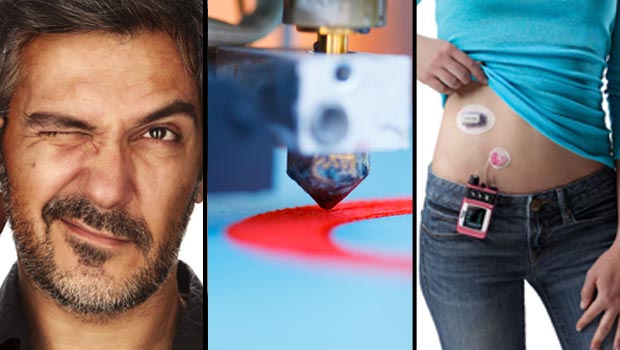 An Eye CGM?
A Holland company, Noviosense, has announced it has created a new kind of glucometer that may take the place of finger pricks, but there's one catch: it has to be worn in the lower eyelid. The flexible device, which is the size and shape of an extremely small twig, is designed to be worn in the eyelid for up to two weeks, according to a report in Medgadget.
Artificial Pancreas Covers Mistakes
University of Virginia researchers have unveiled new evidence that a closed-loop artificial pancreas system beats traditional pump therapy when it comes to correcting for missed boluses. In the two-phase study, researchers carefully tracked teen test subjects first wearing an artificial pancreas pump system that automatically adjusts insulin rates, and then wearing a home insulin pump that requires manual adjustments. In both phases, the teens were given a snack without a bolus and lunch with a bolus of only 75% of the normal dose.
During a four-hour period after the snack, teens on the artificial pancreas system stayed in near-normal blood glucose level range about 45% of the time, compared to about 21% of the time with traditional pump therapy. Likewise, after the under-bolused lunch the teens stayed in near-normal range about 42% of the time, compared to about 17% of the time with traditional pump therapy. That tighter blood glucose control even came with a slightly lower rate of hypoglycemia of 0.06% with the artificial pancreas versus 0.13% with pump therapy.
Print Your Own Test Strips
A Clemson University-based startup, Advanced Diagnostics, has come up with a way for people to print blood glucose test strips for five cents a piece. According to a press release, test strips can be printed on a modified printer using a special dye and a word processing program. The goal is to make test strips more affordable in the developing world, and the project has drawn interest from Type 1 diabetes stakeholders in Tanzania, Nigeria, and El Salvador. It also has raised $500,000 in domestic capital.
There is no mention in the press release of plans to bring this technology to the US market. It's possible that the test strips may have more blood glucose variability than allowed by the FDA. Even if this were the case, an inexact test strip is better than no test strip for many people with Type 1 diabetes in developing countries. This also may be the first sign that new printing technology could make life more affordable for people with Type 1 diabetes.
Insulin Nation will follow up on this story in January.
Animas Vibe Wins FDA Approval
Johnson and Johnson is touting news that its Animas Vibe insulin pump has won FDA approval, according to a report in MassDevice. The pump is fully integrated with the Dexcom G4 Platinum continuous glucose monitor. Such integration means that the pump can provide info on possible highs and lows within five minutes of a reading from the G4 Platinum. Already approved in Europe, the Vibe is the first integrated pump and CGM system to win FDA approval.
Thanks for reading this Insulin Nation article. Want more Type 1 news? Subscribe here.
Have Type 2 diabetes or know someone who does? Try Type 2 Nation, our sister publication.