Living
Crowdfunding a Girl to Diabetes Camp
Anna is a 13-year-old with acute sudden onset Type 1 diabetes who wants to return to diabetes camp this summer, but her family is short of money to make that happen. Coming up short financially is not an easy thing for a parent to talk about, but Anna's mother, Joanne Calandra, knows diabetes camp is too important a thing to miss.
On the morning I spoke with Joanne, Anna's morning blood glucose reading had been so high that she couldn't catch the school bus. We spoke after Joanne had driven Anna off to school.
It's been three years and three months since Anna's diagnosis of sudden onset Type 1 diabetes, and now the stresses and emotions of becoming a teenager aren't making her life any easier. She goes to a large regional middle school, but there is only one other insulin-dependent kid, a boy, in her grade. It leaves Anna feeling alone.
"Girls at that age can be so mean," Joanne says. "They don't understand testing or injecting or pumping. Anna feels isolated sometimes, and no one wants to be seen testing and taking insulin in public."
Joanne is a single, working mom on a tight budget. For the second year now, she has turned to the online fundraising site GoFundMe to close the gap between her available cash and the tuition at Camp Nejeda, a two-week overnight camp in Stillwater, New Jersey for children with diabetes.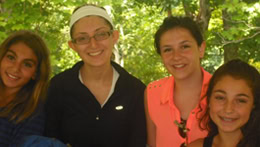 Camp is where Anna can feel normal, Joanne says. She's one of many who share the daily routine of testing and medicating, dietary restrictions and carbohydrate counting. The camp is staffed by endocrinologists and volunteer RN's who specialize in diabetes care, and it provides insulin and supplies throughout each camper's stay.
Joanne was sidelined from work while recovering last year from open heart surgery, and even if she had been able to maintain her employee insurance plan, programs such as Camp Nejeda were not a covered medical expense. With the loss of her employee insurance, Joanne now has to cover the full expense of Anna's insulin and testing supplies. Now, nearly every morning at 6:00 am, Joanne is on the way to a neighbor's house to help care for a 5-year old who has Type 1 so the child's parents can get to work.
"We are a small community of Type 1 parents," she says. "We all have to help each other."
In the framework of this tight budget, camp is an extracurricular, but necessary, expense.
"I have to raise the [$2,050] tuition and submit it by May 1st to save Anna's space for the 13-day July session," Joanne told me. "The campership that paid for Anna's earlier summers is no longer available to her, so I have to raise all the money on my own."
Camp Nejeda Foundation was established in 1958. Among its founders is Frances Wells Vroom, one of Dr. Elliott Joslin's earliest insulin patients, and a legendary and energetic ADA and New Jersey Diabetes League volunteer. The camp's alumni association is active in supporting the program, furnishing campership assistance and covering approximately 1/3 of the cost to keep tuition manageable for families with young children.
Joanne is hopeful the GoFundMe campaign can help send Anna back to camp.
"I have always provided for my kids. It's hard for me to ask for money, and it's hard to ask for money for summer camp," Joanne says. "[But] I don't think that everyone understands how Nejeda is different from a regular summer camp. Anna calls the campers and staff 'her second family.'"
After hearing about Anna's story, Self RX, the publishers of Insulin Nation, donated $150 towards Anna's camp tuition. To make your own donation to Anna's GoFundMe campaign, go to http://www.gofundme.com/anna2campnejeda
To learn more about Camp Nejeda, go to www.campnejeda.org
Thanks for reading this Insulin Nation article. Want more Type 1 news? Subscribe here.
Have Type 2 diabetes or know someone who does? Try Type 2 Nation, our sister publication.