Treatment
Better Insulin, Vegan Diets, Islet Transplants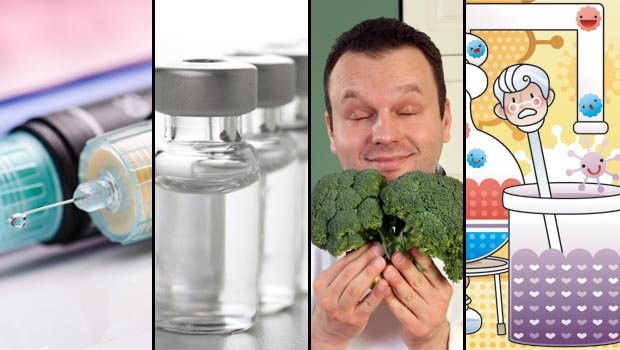 Sanofi Improves Upon Itself
In a multinational trial, Sanofi's new long-acting insulin outperformed its current long-acting insulin. Scientists found in a head-to-head trial of the two insulins, Sanofi's new formulation led to improved glucose control and fewer bouts of hypoglycemia, according to an article in Medscape Multispecialty. The results were enough for the FDA to accept Sanofi's application for the new insulin; European drug regulators have already accepted Sanofi's application.
There is one catch, however: the trial involved older, obese people with Type 2 diabetes. It's unclear if the feds will approve this insulin for people with Type 1 diabetes based on the test results.
Novo Nordisk Tries, Tries Again
Last year, Novo Nordisk thought it had a clear road ahead to rolling out its new long-acting insulin, Tresiba, in 2017, but then the FDA rejected it out of safety concerns. Now the drug manufacturer is happily announcing that its trials to clear up the concerns are going ahead of schedule, according to Fierce Biotech. Company officials now believe they will even be able get their insulin out to market in 2016, which must mean they think the trials will show their insulin in a very favorable light.
Veggies Fight Neuropathy
A small study found that a vegan diet helped relieve some of the pain of neuropathy, at least when tried on 15 people with Type 2 diabetes. The study, conducted by members of the Physicians Committee for Responsible Medicine, found that a low-fat vegan diet wiped out neuropathy pain for 81% of the trial participants, according to Medpage Today.
Of course, many people with Type 1 diabetes are told to follow a high-protein, low-carb diet, which can sometimes be more difficult to do with a vegan diet. Still, there is little good news about neuropathy, so any treatment progress helps.
Islet Transplants via the Stomach
Scientists have been trying to find a way to transplant functional islet cells into the bodies of people with Type 1 diabetes in a way that allows the islets to survive. Dr. Andrew Posselt of the Diabetes Center at UCSF has been experimenting with ways to implant working islets into the stomach lining. Dr. Posselt has tried this procedure on one volunteer, Chris Stiehl, who achieved insulin independence for almost 8 weeks. UCSF has now received additional funding to try a new version of the procedure with a few more volunteers. The procedure is considered about as invasive as an endoscopy, with a bit more prepping leading up the procedure. You can read about Chris Stiehl's experience here: http://insulinnation.com/treatment2/cure-insight/an-islet-therapy-pioneer/
Thanks for reading this Insulin Nation article. Want more Type 1 news? Subscribe here.
Have Type 2 diabetes or know someone who does? Try Type 2 Nation, our sister publication.