Treatment
Dexcom is Excited, and Best is yet to Come
Interview with Kevin Sayer, Dexcom CEO
How do you see CGM devices evolving?
The foundation of our product development is that we want our products to:
Perform well and accurately measure blood glucose
Be convenient to use and fit within the patient's life — for example, we speak to phones now and will talk to an iWatch soon
Get smaller and become less costly
Our partnership with Google was initially about helping us think differently. We focused on the miniaturization of our current technology. A lot has been accomplished, and we have evolved our partnership with Verily (https://verily.com/ — Verily is a subsidiary of Alphabet which also owns Google) to have them help us with software development and user experience. Together we are developing our next generation product where the transmitter and sensor will all be in one disposable package. Everything will be much smaller and less costly. (release)
What is most interesting in the next generation of sensors?
We follow all the new technologies, enzymatic sensors, and other approaches. Everyone talks about non-invasive sensors, and we look at any examples we can find. Today, for instance, I met with a small company to hear about their non-invasive product but non-invasive sensing is a tough problem to solve in a way that works well for people with T1D. So far, I am most excited by what we are developing internally. We will make significant advances in sensor wire, membrane and the enzymatic layer in the next 2-3 years.
Abbott has done an excellent job with their Freestyle product. It's simple to use with fewer features, and it fits the needs of a portion of the market. We have grown 40% year over year, so we have been very successful and busy. There is a tremendous opportunity for CGMs, and the market is big enough for both Abbott and Dexcom to do very well. That said, we fully intend to have solutions that address the Freestyle market segment.
What are the challenges involved in integrating with pumps?
The integration challenges are changing. Years ago Dexcom and the pump companies all had proprietary systems. It was hard to get these different systems to work together. In 2014, we decided to change our system architecture to become more interoperable. This new architecture has made it easier to integrate and has added features as well.
We actively engage with people who are developing dual-hormone pumps and artificial pancreas solutions. The results that Beta Bionics is getting with their dual-hormone system are terrific. I struggle, however, with the cost that may be involved with adding glucagon to insulin delivery systems. We will have to see if it can be made affordable.
Our ecosystem (sensor, app, cloud, API, etc.) is great, but it is not complete. We see lots of opportunities to build out our API to ease integration with other devices. We also expect to evolve our app and to offer live data to partners. Today, we have agreed with the FDA to a 3-hour delay on external data feeds but I can imagine a fitness app using real-time glucose data (without a delay) with heart rate and other measurements.
We acquired TypeZero (http://typezero.com/) in part because we see them providing decision support for people using insulin pens and multiple daily injections. One of the 'ease of use' ideas I would like to see implemented is a 'Nighttime' button that tells a patient if they should take some more insulin or eat a snack at bedtime to avoid going high or low overnight.
How is Dexcom evolving its marketing to gain new users?
We changed our marketing 4-5 years ago. We were previously focused solely on healthcare providers. We hired an experienced consumer marketing team from outside of healthcare — people who knew direct to consumer marketing. That has allowed us to greatly expand brand awareness among the wider T1D community.
In recent years we have also begun to address a 3rd customer — the payer. We are doing this with outcome studies that show that CGMs improve health, lower costs, and pay for themselves. There is more we can do with payers.
When will CGMs become more common in the Type 2 market?
Today, I think that CGMs have 20-30% of the T1D market, but CGMs have virtually no share in the Type 2 market. That is a massive opportunity for us. We are working with United Healthcare and other partners to begin to address this opportunity.
People with T2D need a different product, particularly so for people who are not on insulin therapy. The CGM for T2D will not require all the alarms and data sharing, but it should give immediate feedback that what I just ate caused my blood glucose to spike.
Pharma companies are promoting many new and costly drugs for Type 2 treatment. Some of these drugs work well sometimes, but the costs are high. We think that CGMs might be the key to educating people on how to take better care of themselves and enable a good portion of the Type 2 market to do very well with just a CGM and Metformin.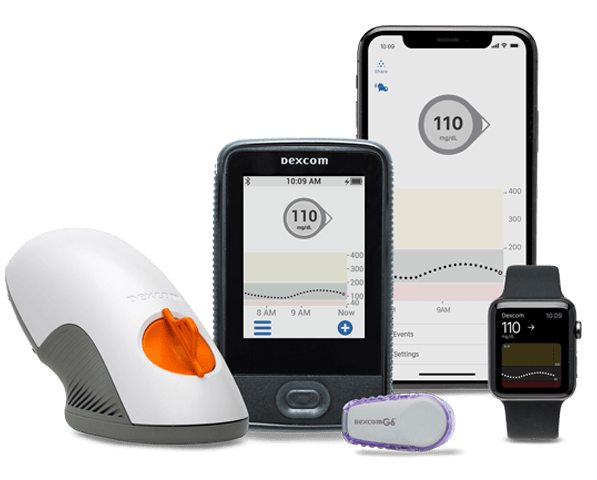 What are you most excited by in Dexcom's present/future?
I am very excited by our G6 product. Its ease of use, 'no calibration' feature and its iCGM regulatory status gives us 2-3 years of high growth runway. Our investors have already recognized this opportunity, and our stock price has risen significantly.
I am most excited by the future products we are developing with Verily. Small size, high accuracy, and low cost combined with intuitive ease of use should enable us to expand into new markets in the US/Europe and elsewhere.