Living
4 Baseball Players with Type 1 to Watch in 2015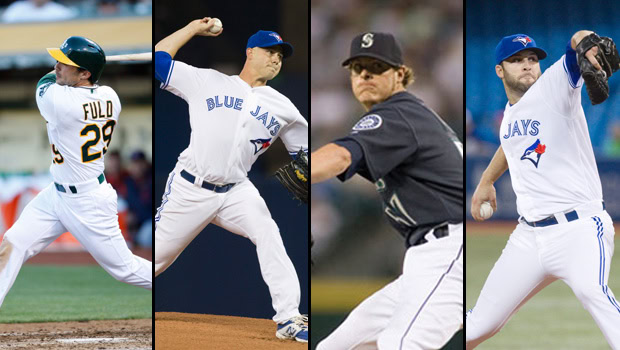 If you're a baseball fan, then nothing makes you smile in winter like the phrase "pitchers and catchers", which is the signal for the start of Spring Training.
Baseball has a long tradition of welcoming players with Type 1 diabetes, including two Hall of Famers: Catfish Hunter, who won over 200 games and 5 World Series championships, and Ron Santo, who smacked 342 home runs during his career.
This spring, we're tracking four players with Type 1 diabetes in the Major Leagues. While none of these four is a Santos or a Hunter, they all are performing at the highest competitive level of their sport:
1. Sam Fuld, Outfielder, Oakland A's
This spring, Fuld is battling to be the starting left fielder for the A's. He's developed a great reputation for his stellar defense, but he's always had trouble maintaining consistent offensive production. Fuld has developed the reputation of being a player who will run through a brick wall to help his team win a ballgame. He's also a pretty nice guy, as revealed in his Insulin Nation profile, which you can read here.
2. Dustin McGowan, Pitcher, Los Angeles Dodgers
McGowan is switching teams this spring, having just signed with the Los Angeles Dodgers. A power pitcher with a history of injuries, he did well mainly as a relief pitcher with the Toronto Blue Jays in 2014. The Dodgers, who have deep pockets, have signed a number of pitchers with arm injuries, and McGowan will have to fight to earn a spot on the Dodgers' pitching staff.
3. Mark Lowe, Pitcher, Seattle Mariners
Lowe signed a minor-league deal with the Mariners, a team for whom he's pitched before; that comes with the chance to earn a sport on the big league club. Considered a journeyman reliever, Lowe has bounced around four clubs. His career got off to a bumpy start when he was finally given a Type 1 diagnosis after an incorrect initial Type 2 diagnosis.
4. Brandon Morrow, Pitcher, San Diego Padres
A former teammate of McGowan's, Morrow is another pitcher who comes with a great arm and a history of injuries. He previously played with the Mariners and the Blue Jays in the American League, and now will be jumping to the National League with the San Diego Padres. If he can avoid arm problems, he will have the advantage of throwing in a pitcher-friendly park. It might be a great opportunity for him to reinvigorate his career.
Do you know of other baseball players with Type 1 that we should follow? We'd like to hear about it.
Thanks for reading this Insulin Nation article. Want more Type 1 news? Subscribe here.
Have Type 2 diabetes or know someone who does? Try Type 2 Nation, our sister publication.