Living
The World Series Pitcher with Type 1 Diabetes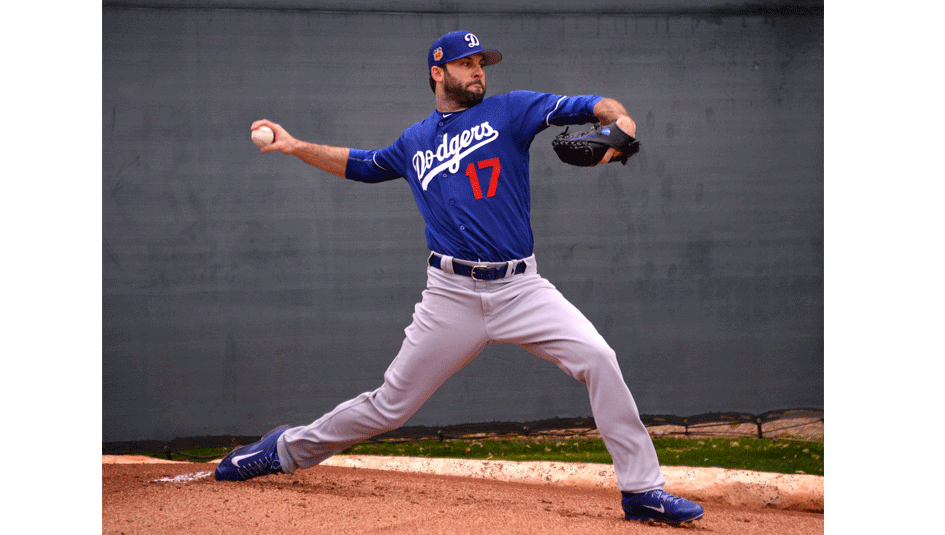 Brandon Morrow may find his blood sugar levels elevated like the speed of his fastball today. After all, it's not uncommon for a pitcher to have a surge of adrenaline knowing he is going to pitch in the World Series.
Luckily for Morrow, a relief pitcher for the Los Angeles Dodgers who has Type 1 diabetes, he already has honed his blood sugar management so that it has becomes an almost subconscious routine. In multiple interviews over the years, the 11-year Major League veteran has described how he has learned through trial and error what works for him to be at peak performance when he takes the mound.
He hasn't always been perfect. Diagnosed at 17, Morrow says he remembers feeling like he was going low once during a college game, a feeling he says can make for a "long inning". He has studiously tried to avoid that over the years, and he does it by trying to stick to what works. This means, for example, he often adheres as closely as he can to a regular diet during the season, one that includes a complex-carb protein bar about an hour and a half before game-time.
Although it is hard to find instances of Morrow complaining much about his Type 1 diabetes in interviews, one can imagine his blood sugar routine became a bit more complicated when he was converted from a starting pitcher to a reliever. He uses an insulin pump, but disconnects when he's getting close to being called into the game, and checks his blood sugars during regular intervals before and throughout the game. This means that if you see Morrow pitching multiple innings during the World Series, he may be doing a fingerprick between innings in the dugout while he discusses pitching strategy with his catcher. If he finds the adrenaline is causing his blood sugar to surge, he will give himself a tiny correction of a half unit of insulin.
While Morrow's blood sugar maintenance may be routine, or at least as routine as blood sugar maintenance can be for anyone with Type 1 diabetes, his journey to the World Series has been anything but. Like too many people with Type 1, he didn't recognized the symptoms for quite a while. He drank water constantly but was always thirsty, urinated frequently, had blurry vision, felt dizzy, and was losing weight. It took a teammate who had done a class project on Type 1 diabetes to point out that he had all the symptoms. He confirmed this with some web sleuthing of his own that night and went with his family to the doctor the next day. His blood sugar level was over 700 mg/dL.
Morrow had already signed a letter of commitment to play baseball with the University of California, and luckily they didn't rescind his scholarship. The team already had a player with diabetes, so they were comfortable with Morrow joining the team. He was drafted before his senior year by the Seattle Mariners. In that draft, he was picked ahead of his current teammate and ace of the Los Angeles Dodgers, Clayton Kershaw. He made the big league club after just one short season in the minors
He has always been seen as having enormous potential. As a starter, he has shown flashes of brilliance, and some stat geeks say he pitched one of the statistically best baseball games in history, a 137-pitch, 17-strikeout one-hitter on August 8th, 2010.
But his career has frequently been derailed by non-diabetes-related injuries. He also battled wildness early in his career, and looking back he believes he might have benefited from more time in the minor leagues. This is why he became something of a journeyman starter, pitching for the Mariners, the Toronto Blue Jays, and the San Diego Padres before signing a minor league deal with the Dodgers. He began the year in AAA, and worked his way onto the big league club as a reliever.
And since then, he has pitched perhaps his best year of baseball. The Dodgers have been on the cusp of greatness for several years, but they've had a leaky bullpen of relief pitchers. This season has been different, and Morrow is a big part of the bullpen's revival. Since being called up on May 29th, he has appeared in 45 games and compiled an ERA (earned run average) of 2.09. He's been even better in the playoffs so far, appearing in seven games and sporting a 1.08 ERA.
Morrow has been very open and candid about how Type 1 diabetes is part of his life. In one interview, he even shared that he has destroyed a meter or two after a bad pitching performance. In every stop along the way of his career, he has made a point to support Type 1 diabetes charities and research efforts, and made himself available to young athletes with Type 1. He says it's just as important for parents of kids with Type 1 to meet him so he can reassure them that there is no reason a young athlete with Type 1 diabetes should stop playing sports as long as blood sugar levels are monitored.
Expect to see Morrow to come in to pitch in at least two to three games during the World Series, which starts tonight.
This information was compiled from the following sources:
https://www.seattletimes.com/sports/mariners/brandon-morrows-pitches-dont-include-throwing-mariners-under-the-bus/
https://www.baseball-reference.com/boxes/TOR/TOR201008080.shtml
https://www.theringer.com/2017/7/5/16037416/mlb-los-angeles-dodgers-postseason-reliever-brandon-morrow-c28d32f03791
https://sports.yahoo.com/brandon-morrow-greatest-pitching-performance-likely-forgot-152319663.html
http://m.mlb.com/news/article/24403690//
http://www.sportsnet.ca/baseball/mlb/life-as-a-diabetic-morrows-delicate-balancing-act/
https://am570lasports.iheart.com/content/2017-10-02-dodgers-rp-brandon-morrow-keeps-battling-on-and-off-the-field/
http://www.sandiegouniontribune.com/sports/padres/sdut-padres-brandon-morrow-pitches-with-diabetes-2015apr25-htmlstory.html
Top Photo courtesy of: Jon SooHoo/©Los Angeles Dodgers, LLC 2017
Do you have an idea you would like to write about for Insulin Nation? Send your pitch to submissions@insulinnation.com.