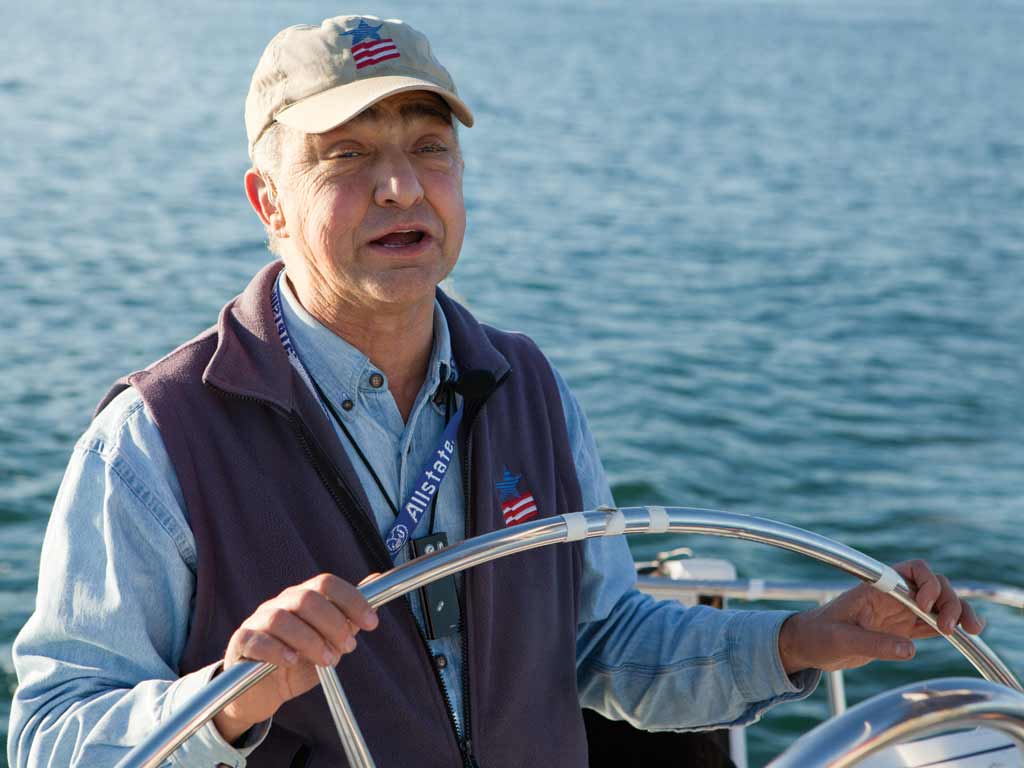 At 65, when many begin to slow down, Urban Miyares is under full sail and headed towards the horizon. Sailing is a big part of is life, as 
is chairing the five not-for-profits he has organized, criss-crossing the country from his home in San Diego to spend time running an entrepreneurship program at the Hadley School for the Blind in Chicago, and addressing business leadership conferences, veterans groups, people with diabetes, and workshops for the disabled.
Miyares is blind, has had a kidney transplant, suffers from neuropathy in his legs and feet — in part due to is service in Vietnam — and takes more than 60 pills a day.  He has made several fortunes in business and could be collecting permanent disability checks from the Veterans Administration while sitting comfortably at home or on a boat. But that's not his style.
His next big project is to circumnavigate the globe alone in a 60-foot sailboat he wants to name A1c.. You would think this was insane if you didn't know that he has twice led boats fully crewed by disabled people to very respectable finishes in TransPac, the Los Angeles to Honolulu race each summer that is an ultimate test of both seamanship and endurance. When Urban talks about his plan to sail around the world by himself, it is not a dream, but a reality: 
he has it all figured out.
"Urban is the most inspiring person I have ever met," says Dr. Steven Edelman, his endocrinologist and the man who persuaded Miyares to start telling his remarkable story about diabetes in public 18 years ago. The video linked below recounts that tale, among many that make up the very rich tapestry of Urban Miyares' life 
so far.
"People know only one or two parts of me," Miyares muses.  "Very few other than my wife know the whole story."
Story File: Urban Miyares
Hometown: San Diego, CA
Age: 64
Year Diagnosed and Type:  
1968, Type 1
Medications and Technology:  
Insulin Pump: Animas (20 20); Glucose
Meter: Prodigy Voice
Insulin: NovoLog
Medications: Numerous medications for high blood pressure, cholesterol control, thyroid disease, chronic pain, anti-rejection (steroids); multi-vitamins, aspirin, pro-biotic.
Diabetes Care Team: Dr. Steven Edelman, VA Medical Center, San Diego
Occupation: Philanthropist and entrepreneur.  President, Disabled Businesspersons Association; Co-Founder, Challenged America
Family: Wife JoAnn Miyares (married 43 years); son Urban Paul Miyares; daughter-in-law Christine Miyares; four grandchildren, Jordan (18), Alexis (14), Ally (10), Ayden (5).
Favorite Quote:
 "What's Your Encore?"
Favorite Historical Figure:  Captain Horatio Hornblower
Greatest Achievement:  
What I'm going to do tomorrow
Future Goals: Start another business and do a solo circumnavigation of the Earth, non-stop, in a sailboat
Links: facebook.com/urban.miyares; twitter.com/#!/bquest2; www.disabledbusiness.com, www.challengedamerica.org
Thanks for reading this Insulin Nation article. Want more Type 1 news? Subscribe here.
Have Type 2 diabetes or know someone who does? Try Type 2 Nation, our sister publication.