Living
Insulin Nation's "Iron Andy" Holder and Chris Leach Featured in T1 Conference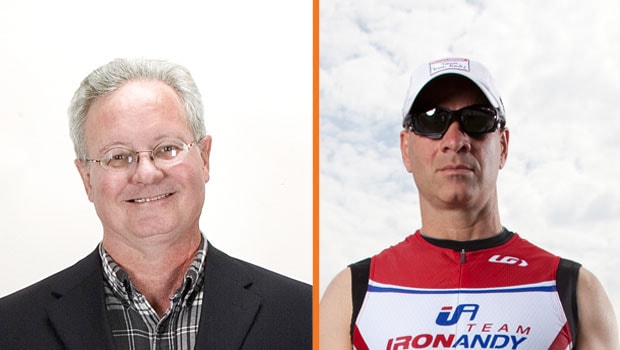 This past week, two members of Insulin Nation's editorial team took part in "Thrive with Type 1 Diabetes", a global virtual conference on Type 1 diabetes. Insulin Nation columnist "Iron Andy" Holder and editor-in-chief Chris Leach were part of a dozen featured guests in the virtual conference, held October 9th through October 11th.
The conference focused on ways to live life to the fullest with Type 1 diabetes, a subject close to "Iron Andy" Holder's heart.  In an extensive interview with Dr. Jody Stanislaw, the conference organizer, Holder detailed how he went from denial to embracing the challenge of living well with T1.
At age 36, during routine blood work, Holder was told he had a very high fasting blood sugar reading of 120.  Holder's doctor told him to use a meter to monitor his blood sugar levels for a few months, but he only did it once and it scored in the high 200's.  Instead of calling a doctor, he called customer service.
"I thought that the thing must be broken, it's been sitting in the cabinet, the battery's dead," Holder joked in the interview.  "I went through a list of things other than reality."
But reality set in at the next doctor's visit.  Crying on the phone after being diagnosed T1, Holder pledged to his wife that he was "going to make something good out of this".  A competitive amateur athlete, he started training for ironman triathlons.  His initial goal was to show his young children the importance of perseverance in the face of adversity.
"For them to see me and to see diabetes and to see adversity in a different light [are] the goals that I set out to do," he said.
Since then, Holder has competed in many Ironman competitions, become a popular motivational speaker and created the "Iron Andy" Foundation to help people with diabetes be proactive about managing their condition.
Insulin Nation editor Chris Leach shared hope from the frontlines of diabetes research.  From years of writing about diabetes, Leach has developed an endocrinologist's background and a T1 perspective, Dr. Stanislaw noted in the interview.
"I'm pleased to be an honorary diabetic," Leach said.
Leach shared some exciting news on the latest T1 diabetes research, including the prospect of a new inhalable insulin product.  Recently, MannKind reported positive Phase 3 trial results for its inhalable insulin device, Afrezza, Leach said.  It's hoped that this inhalable insulin product will fare better in the marketplace than previous attempts.
Leach also discussed the headlines surrounding advances in bionic pancreas technology. Recently, it was announced that the FDA had approved Medtronic's MiniMed 530g, a pump which uses smart technology to monitor glucose readings and even automatically shuts off insulin for two hours if it detects blood sugar readings dropping too low. The device is being hailed by some as an "artificial pancreas".
Finally, Leach detailed exciting new research that shows that insulin-producing beta cells in the pancreas can be regenerated or reactivated.  Such research gives Leach reason to believe that advances in diabetes treatment are coming which will significantly improve the lives of those with the condition.
"We will figure out a way in the next 30 to 40 years to stop this, or at least to reverse this," Leach predicted.
Thanks for reading this Insulin Nation article. Want more Type 1 news? Subscribe here.
Have Type 2 diabetes or know someone who does? Try Type 2 Nation, our sister publication.