Living
A Woman with Type 1 Was Behind This Viral Photo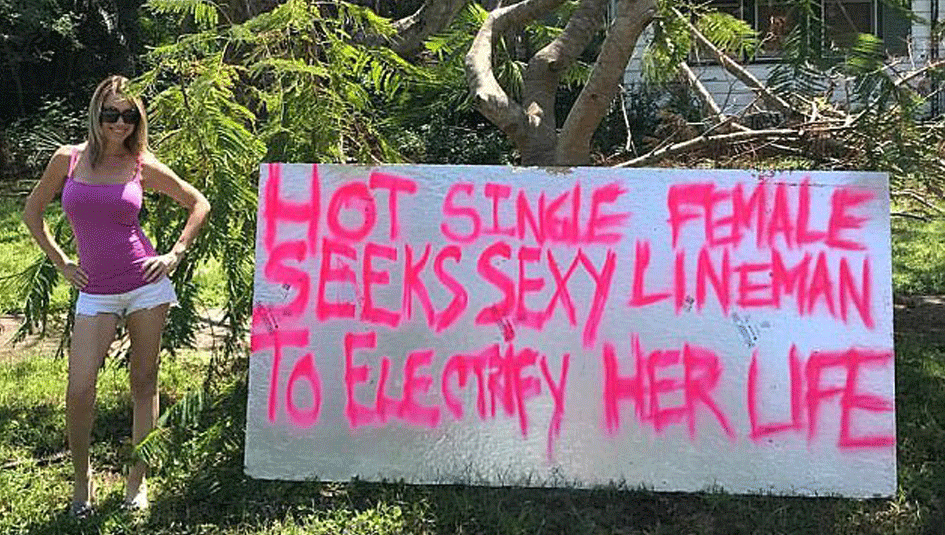 It was one of the few whimsical stories to come out from the hurricanes that struck the southern United States: Kynse Leigh used a Facebook post, and a tongue-in-cheek sign to get her home's power restored.
But that sign was just the latest chapter in a long medical drama that has included complications from Type 1 diabetes and a double-organ transplant for the 37-year-old realtor. Now Leigh is using her viral post's fame to raise awareness for organ donation.
Leigh was diagnosed with Type 1 diabetes when she was 10 years old, and although she said she maintained good A1C scores throughout the next 27 years, she still could not avoid complications. She has had high blood pressure throughout that time, and she suffered from preeclampsia while pregnant with her son. It left her with damaged kidneys.
"My blood sugars were always very great. My A1Cs were still in the sixes and sevens, but after 27 years, it takes a toll," she said in a phone interview with Insulin Nation.
In October 2016, she was diagnosed with severe kidney failure and placed on the organ transplant list. On August 31st, 2017, she received the kidney and pancreas of a local 15-year-old boy who had died. While Leigh hasn't had much luck medically in her life, she knows she did here; she was bumped towards the front of the line because of her need for two organs. She often says in interviews that some 20 people die every day while waiting for organs.
While the transplant was a success, Leigh needed to take a large amount of drugs to keep her body from rejecting the organs. These drugs suppressed her immune system, which meant she had to be extra-careful to avoid viruses or other infections. Despite her best efforts, she landed back in the hospital with an infection around the same time that Hurricane Irma was striking the Florida coast.
"They told me when I checked back in, 'You're not going to be released until after the hurricane,'" she said.
When she was ready to be released, she learned from neighbors that a tree had taken out her home's power lines. Because of her condition, she couldn't live in a home without air-conditioning or the ability to clean it, so she stayed at the homes of friends. Her recovery continued, and she was even well enough to help out alongside her co-workers to cook food for others affected by the hurricane. Still, she longed to return home.
That's when she spray-painted a sign which read, "Hot Single Female Seeks Sexy Lineman to Electrify Her Life." She posed with the sign and posted it on Facebook, where it was widely shared. After she was interviewed on a local radio show, a pair of linemen answered her call and restored her power.
Since that time, Leigh has managed to stay healthy. She no longer needs insulin therapy, although she is careful to avoid calling the transplant a cure. She notes that many pancreas transplants only last a decade and she frankly discusses that there are downsides to the immunosuppressive drug therapy that keeps her alive. Her hands shake, for example, and she still must take a large amount of medicine each day.
"I take approx 20 pills in the morning and another 10 at night," she said in the interview. "You're trading one regimen for another regimen."
Still, she is keenly aware of the gift of time that she has been given, and she is embracing it. Through the news reports of her viral post, she was able to connect and spend time with the family of the organ donor and express her gratitude. She also has been posting about the value of organ donation, and she hopes to organize events to help those efforts.
"You never realize how important it really it is, until you know someone who is going through it or you are going through it yourself," she said.
To learn more about how you can become an organ donor (yes, this includes people with Type 1), please go to https://organdonor.gov/index.html or https://unos.org/.
Do you have an idea you would like to write about for Insulin Nation? Send your pitch to submissions@insulinnation.com.