Hypoglycemia
"More Accurate Than The Meter" – And A Best Friend, Too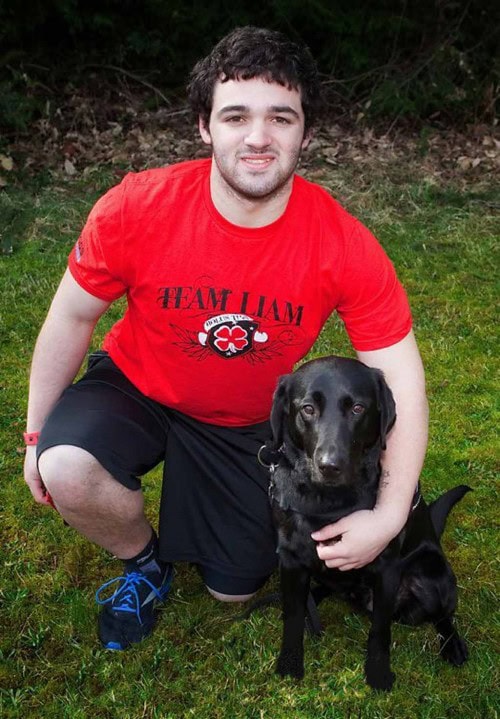 If you're a Type 1 teenager, how does a diabetes alert dog change your life? Liam Kelly, 18, of Gig Harbor, Wash., knows. Diagnosed at age 13, Liam acquired his dog Max – a black Labrador retriever — four years ago. Since then, Liam has found that Max offers not only warnings about blood glucose highs and lows, but also profound friendship. A welcome bonus is Max's appeal to girls, making the dog an icebreaker socially. Liam shares his thoughts about what Max means to him below.
To learn more about Liam's experience with Max, and to get some square-one information about how to begin looking for a diabetes alert dog of your own, see "A Different Kind of CGM."  a-different-kind-of-cgm/#.UWcb04UR7EU
IN: How has Max changed your life?
LK: Max has given me and my family a greater sense of security in knowing that I'm not going to get any huge out-of-range blood glucose surprises. The early alerts from Max allow me to correct highs and lows before they get serious. Max and I have a friendship that is stronger than any I have known.
IN: How does he make you feel safer with managing your diabetes?
LK: I can ignore the vibrations from my pump or CGM, but Max won't let me ignore him. He will take matters into his own paws until I correct or respond to his alerts. His persistence to keeping me healthy makes me feel safer.
IN: What is the best thing about having Max in your life?
LK: That I have someone who I can always rely on. Our very close bond just makes me happy. We are very similar in our approach to life, we are easygoing and like to have fun. Another nice benefit to having Max is that he's the ultimate wingman. Girls love to come up and just look at how handsome he is. He has been a real icebreaker to meeting new people and a great ambassador for helping me bring awareness of Type 1 to others who might not know about the disease.
IN: What is the most challenging thing about having Max?
LK: The responsibility of caring for another living being. The benefits are far greater than the challenges, but having a diabetes alert service dog is much more work than not having the dog. I have to be constantly aware of our space, others coming up to him, temperature and time changes, his health and having time to train and exercise daily. I don't like to even think about this, but I expect it will be challenging and the worst day in my life when we have to say goodbye.