Insulin Nation will be featuring five profiles of female athletes with Type 1 diabetes who thrive at their sport. Each profile is excerpted from Judith Jones Ambrosini's book "The Sisterhood of Diabetes: Facing Challenges and Living Dreams".
Even at an early age, Missy Foy was competitive. She first turned to basketball, longing to be a power forward, but she discovered she was just too small. Undeterred, she went on to become a power swimmer.
When Missy was first diagnosed with Type 1 in 1997 at age thirty-three, she was a dedicated competitive runner who had just qualified for the U.S. Half Marathon National Championships. It was the second time she had qualified for a national championship race. On Wednesday before the Saturday race, she became violently ill with lingering food poisoning. In the wee hours of Sunday morning, Missy, feeling absolutely miserable, lay in bed in an emergency room at the local hospital. The attending physician and a resident walked over to her bed and told her that in addition to food poisoning, she had a very high blood sugar, which indicated Type 1 diabetes. Missy's spirits sunk to the ground. She believed that any prospects of a professional running career were now fried.
But because it's not in Missy's intrepid nature to give up on things, she soon determined to weave diabetes and running together to make it possible for her to follow her dream of being a professional runner. It wasn't always easy.
Diabetes, she says, is like "… having a child that never grows up. You can't go anywhere or make plans without making plans for 'the child.' I sleep with one eye open as a reminder that I have to take supplies everywhere and that a backup plan is mandatory. And, I haven't found a 'babysitter' yet I can trust."
The rocky road to understanding how to match diabetes, training, and racing was one huge trial-and-error lesson. Over the first year of dealing with the many realities and subtleties of living with diabetes, Missy learned how her body worked. She analyzed and tested which foods and quick carb products worked best for her nutritional needs, and how well she tolerated them. She experimented with sites and times of insulin injections, as well as different
insulins and insulin pumps. She kept flawless records of every training session. Each step of the way was crafted with precision, discipline, research, tedious repetition, planning and more planning. After about a year of this, Missy felt comfortable and confident that she could surge ahead and set achievable racing goals.
In December of 1998, Missy completed her first marathon in 3:00:45. It was a grueling run, and she was nauseous throughout the race. Undaunted, she was determined to do better. Three months later, she ran her second marathon in 2:49:47, losing the race by two seconds. But, she had run a fantastic race—coming up from twentieth in the pack—and this marathon qualified Missy for Olympic Trials.
In 1999, she became the first diabetic runner to qualify and run in the Olympic Marathon Trials. Thus far, it is an achievement she alone holds. But it almost didn't happen. On that frantic nail-biting night before the Trials, word came down via a note to her hotel room that Missy would not be eligible to run Olympics Trials because she was using a drug, insulin.
A few weeks before Olympic Marathon Trials the International Olympic Committee had
added insulin to its banned drug list because it is an anabolic hormone, and weight lifters and
sprinters were suspected of using it to build muscle mass. The race committee at Olympic Trials quickly called in a local physician to do a physical exam to confirm that Missy did indeed have Type 1 diabetes. Finally at 8 pm that night, just a matter of hours before trials, the U.S. Olympic Committee cleared Missy for competition. Although she did not place to run in the Olympic Games, making it through trials was an astonishing achievement.
Since that time, Missy has focused on ultra-running – completing distances of 50 kilometers or more – and inspiring children at diabetes camps. Her banner achievements as an athlete with diabetes provide an example of what is possible for all of us, and her kind and generous spirit impacts the entire diabetes community.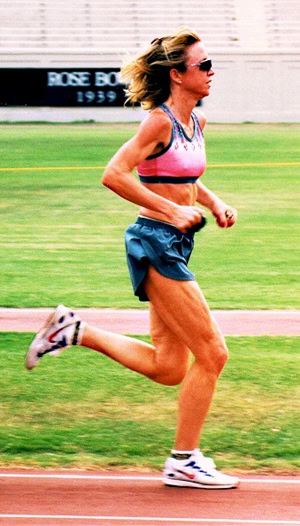 Missy Foy's racing accomplishments:
• Started racing in 1996
• Signed onto a national women's racing team in 1999
• Voted North Carolina's Runner of the Year 1997 and 1998
• Awarded the 1999 LifeScan Athletic Achievement Award
• In 1999, became the first athlete with diabetes to qualify for the 2000 Olympic Marathon Trials
• In 2005, broke into the ultra-marathon running scene with a record breaking (by 20 minutes) performance in the challenging Umstead Endurance Run's 50-mile trail race
• Won a silver medal in the 2007 U.S. 50-Mile National Championships
If you would like to purchase the book "The Sisterhood of Diabetes: Facing Challenges and Living Dreams", go to thesisterhoodofdiabetes.com/buy-sisterhood-of-diabetes.