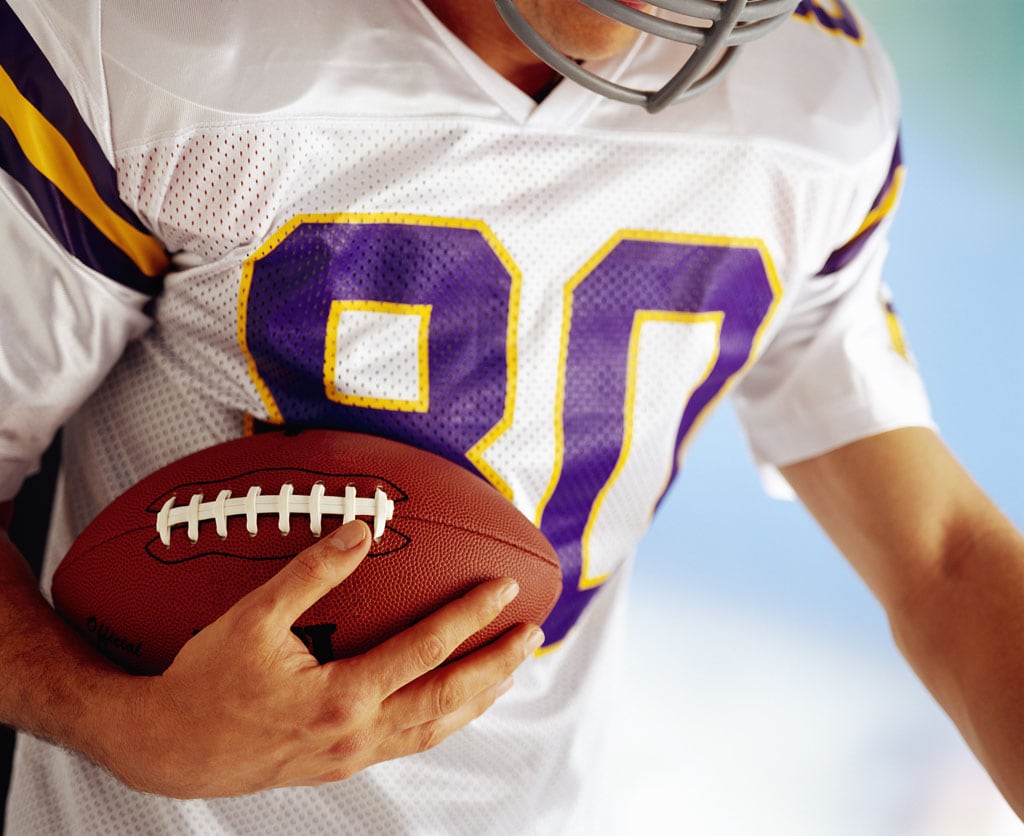 As the night air cools and the squash start to ripen in the garden, the thoughts of many Americans turns to the pre-fall ritual of National Football League training camp. Diabetes is a storyline in this year's NFL preseason, with several players with diabetes to follow and cheer.
Diabetes and the NFL is more associated with Type 2 diabetes than Type 1, and that hasn't always been a good thing, according to a frank 2012 article for ESPN the Magazine. There is tremendous pressure for some of these players to gain bulk, leading to some brutal eating regimens and unhealthy weight gain for players. It becomes another health burden, along with brain injuries and joint pain, they must endure after their playing days are done, and it reminds us that football is a physically brutal game.
Some teams have shown more understanding at working with  players with diabetes than others. The New England Patriots didn't make any friends among the diabetes community when they cut  Kyle Love, a defensive tackle, shortly after he received his Type 2 diagnosis. (The Patriots are enduring a brutal p.r. cycle this off-season with the Aaron Hernandez trial, and this earlier story didn't help matters any.) Within a day, Love signed with the Jacksonville Jaguars, where he is expected to be a big part of that team's defensive scheme.
If you're looking for a "Rudy" underdog theme among Type 1 players, then keep an eye on defensive end Will Pericak. An undrafted free agent from Colorado, Pericak signed with the Baltimore Ravens, risking life and limb for just $13,500 and a chance to catch on with the team. Diagnosed with Type 1 as a teen, Pericak had a good role model in taking care of his condition. His older brother was diagnosed Type 1 at an early age, and he played basketball in high school. Seeing his example, Pericak saw no need to quit football when he received his own diagnosis, according to an article on Baltimoreravens.com.
Undrafted free agents often get cut during training camp in the NFL, but Ravens coaches have been praising Pericak's technique and work ethic, according to the Carroll County Times. That means there might be a good shot of seeing him make some tackles down the road.
One of the players he might be lining up against in the future is Jay Cutler, quarterback of the Chicago Bears. In 2007, before he was diagnosed with Type 1, Cutler lost more than 30 pounds in a season, according to ESPN.com. Since then, he's learned to manage his diabetes and he's emerged as the focal point for Chicago's offense. Throughout his career, Cutler has been mercurial in his play and his demeanor, but he's developed more of a steady hand in recent years. One wonders if that has coincided with improved management of his diabetes.
With so many  layers with diabetes in the NFL to follow, it's only a matter of time before someone creates a diabetes fantasy league. Let's hope every player stays safe and healthy.
Thanks for reading this Insulin Nation article. Want more Type 1 news? Subscribe here.
Have Type 2 diabetes or know someone who does? Try Type 2 Nation, our sister publication.