Living
Mother: DKA Doesn't Mean Neglect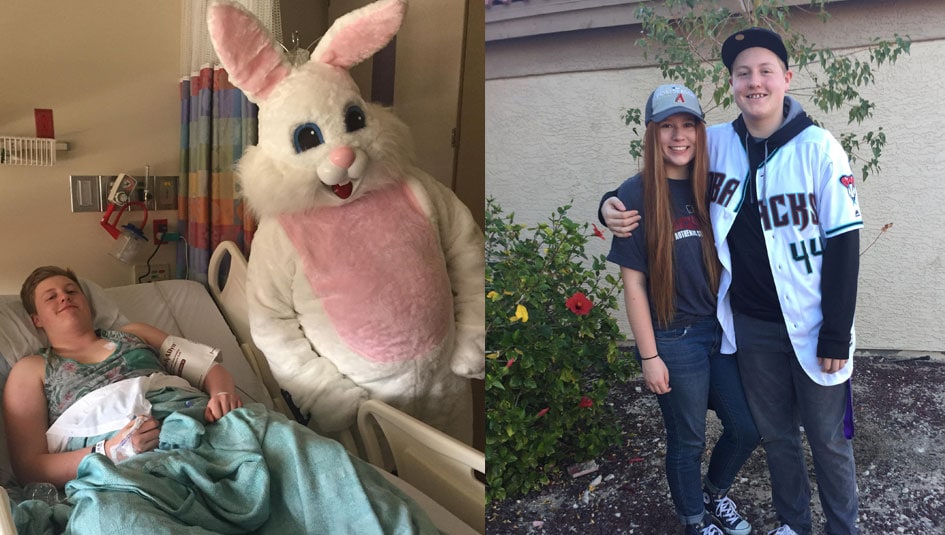 We recently reported on the tragic death of Arizona teenager Alex DePriest, who had been in DKA for several days. A friend of the family, Kim Hrvatin, talked to Insulin Nation about how this tragedy is hitting close to home. Not only was her daughter close friends with Alex, her son has Type 1 diabetes. In fact, he was hospitalized with DKA over the same weekend. Unlike Alex, he recovered.
Hrvatin is sharing their story to let the community know just how quickly high blood sugars can become serious–and also that DKA does not only occur when individuals neglect their diabetes care. Managing blood glucose levels is a "tenuous, tenuous process," she says. The body can act in unpredictable ways. (Of course, DKA can also occur when individuals, through no fault of their own, do not have access to insulin.)
Hravtin's son, Trey, was diagnosed five years ago. At the time, his family only knew one other family living with Type 1 diabetes– the DePriests. Shortly after bringing Trey home form the hospital, the family went to a restaurant, where they coincidentally encountered Alex and her family. Kim recalls going right over to tell them about Trey, after which they received loving words and support. The two families sat together and bonded over diabetes. "Cheryl- Alex's Mom, really helped me through that initial panic," says Hravtin.
Since that day, Trey has had a rough go of diabetes. His mother explains that puberty is the primary culprit, since it disrupts hormones, such as insulin. "A normal body compensates by producing more insulin," says Hrvatin. But, of course, individuals with Type 1 diabetes don't produce insulin and so require synthetic insulin. Often, this synthetic insulin just can't do its job of returning blood sugar to normal levels. Trey has demonstrated insulin resistance, which may be compounded by his size. His mother says that is over 6 feet tall, and he takes five vials of insulin per month, as well as 1,000 mg of Metformin. Many days, this isn't enough.
Trey's recent bout with DKA began the Saturday of Easter weekend. His mother says that he woke up with elevated blood sugar, but it wasn't too alarming. "A 300 doesn't scare me," she explains, especially if insulin is given right away. Trey gave himself a bolus dose and went back to sleep. He woke up a few hours later, still high. Again, he gave himself a bolus dose. "But for some reason, insulin didn't work this time."
He tried to go about his day, despite being in the 300s, but he grew increasingly ill. Midday, he called his mother to pick him up a few blocks away, as he didn't feel comfortable walking home. She did so, inquiring if he thought he was sick. Trey didn't know, but told her, "I really just don't feel good."
When his condition worsened, his parents took him the local Children's Hospital, where he was admitted right away. "They didn't even give him an ID bracelet," says Hrvatin. She is grateful that the triage nurses recognized the severity of the situation. He was hooked up to IV and given potassium and fluids, basically water to hydrate his body, but it took time for his blood glucose levels to return to safe levels. Trey wasn't released until Monday evening.
What exactly caused him to go into DKA? There is no apparent reason. The endocrinologist who communicated with hospital staff by phone thought that it could have been caused by a pump failure. But Trey and his mother disagreed with this, after checking the site themselves. The physician on the floor thought that he had a mild virus, indicated by red spots in his mouth. Though not severe itself, the illness could've been enough to interfere with blood glucose levels.
On Tuesday, Trey had a volleyball game. The athletic director called home to express concern about Trey's participation, since news of Alex's death had been made public. But his mother explained, "Trey's not Alex." She says that a lot of people–both students and staff– have come up to her son to confirm that he is okay. He is moved by the support.
"Hopefully, they'll get a clue that this isn't a game," Hrvatin says. In the past, Trey has been the target of jokes and bullying. She recalls one incident in which the volleyball team was given cookies. When he took one for himself, a teammate began to jeer, "you can't eat that. You have diabetes." Trey went to the locker room to conceal his upset, but he encountered the coach there. He had a conversation with the teammate and explained the differences between Type 1 and 2 diabetes. Still, the teasing behavior persisted.
It has been a difficult battle, but Hrvatin says diabetes has brought her family together. She admits that there have been times when her son tried to push her and her husband out of the loop, but explains that he's come to realize how much he still needs their support, given how volatile his condition is at this point. His mother says that she has stayed up many nights simply so that he can sleep through the night.
Obviously, they are all very shaken by Alex's tragic passing. "It has really rocked our world," says Hravtin. She is heartbroken to never again see Alex at a volleyball match, running up the stands for a sip of juice. "She was a beautiful person" who will be missed by many.
In the wake of the tragedy, Hravtin wants other parents and individuals with Type 1 diabetes to know that "things can turn on a dime." Furthermore, "DKA does not mean neglect." It can happen to anyone, no matter how vigilantly that person manages blood glucose. She hopes that people in the community and in the medical professions understand this reality.
Do you have an idea you would like to write about for Insulin Nation? Send your pitch to submissions@insulinnation.com.
Thanks for reading this Insulin Nation article. Want more Type 1 news? Subscribe here.
Have Type 2 diabetes or know someone who does? Try Type 2 Nation, our sister publication.