Living
Designing a Great Prefilled Insulin Syringe Case
Carlos Sapene, an engineer and 3D model designer, has created a syringe carrying case meant to improve the lives of MDI diabetics
In the past few decades, we have seen huge advancements in the methods available to inject insulin.
Today, plenty of patients utilize an insulin pump or a tubeless insulin reservoir for this purpose. Many more turn to insulin pens as a simple and affordable option. And, despite these advances in tech, a huge number of people still choose to inject insulin via the old fashioned method: with a vial and syringe.
There is no shortage of pump cases, pen carrying packs, and other gear for these higher-tech items.
Finding simple and effective options for transporting syringes, especially those preloaded with a day's worth of insulin, is surprisingly challenging.
It was this hunt for better supplies that led Carlos Sapene, a type 1 diabetic with a background in 3D modeling computer design, to create a user-friendly, stylish, and affordable prefilled insulin syringe carrying case.
I had a chance to talk with Carlos more about his invention and what drove him to pursue this particular unmet diabetic need.
Identifying an Unmet Need
Carlos Sapene was diagnosed with type 1 diabetes seventeen years ago as a young adult. Since then, Carlos has tried almost every available method for insulin injection, including pens and pumps. 
But, even when he was using a more advanced method of diabetes care, Carlos often found himself carrying around extra needles and insulin vials as a backup. And, when the cost and additional work required for these higher-tech solutions became too much, he often found himself relying solely upon this much simpler tactic.
Since carrying a vial of insulin around all day brings with it the inherent risk of breaking the fragile glass bottle and losing an entire month's supply of this costly drug, Carlos preferred to pre-fill his insulin syringe with what he would need for the day and carry only that with him.
Unfortunately, carrying a full needle around in your pocket or bag comes with problems of its own.
This is how Carlos was first introduced to the very limited and uninspiring world of syringe carrying cases.
What Makes This Product Better?
While Carlos came to rely on the syringe cases currently on the market, he couldn't help but feel that there was room for improvement.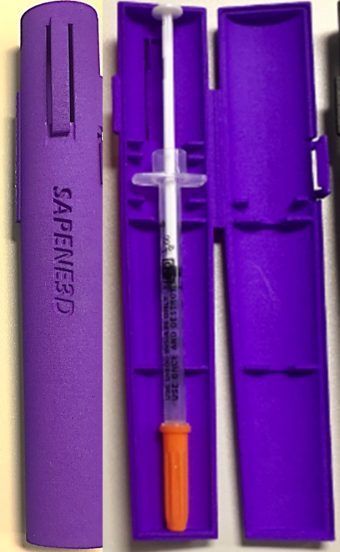 For one, many of the cheap plastic cases he had to use were prone to breaking. The thin hinges were usually the first to go. Then it would be the pocket clip that would snap off.
But worse than the brittle nature of the cases, was how un-user-friendly they were.
The latch that held the case closed was either too weak to do its job or impossible to open with one hand. And the tracks on the inside of the case meant to keep the syringe in place dictated that the syringe be filled to pre-set amounts, meaning you had to depress the plunger to the right point and waste valuable insulin if you wanted the syringe to fit securely.
Luckily, Carlos had the right skills to identify and tackle the shortcomings of these standard syringe cases. He put his engineering and 3D printing background to the test and began designing a better syringe case.
He designed his new case to not only be stylish and discrete but to actually work for the purpose it was designed. 
Unlike the disappointing cases he had been using for years, Carlos' case utilizes a wide living hinge built to withstand movement without wear. He also designed an ergonomic latch that can be easily opened with just one hand.
Carlos was also able to fix the issues with the inner design of other cases. His case can fit any size syringe from 1/3cc to 1cc securely no matter how much insulin the syringe is holding. 
The outside of his case also got a much-needed makeover. Unlike other pre-filled syringe carrying cases that tend to be round, bulky, and almost always black, Carlos' case is compact, with a slimmer profile, a stronger, recessed pocket hook, and it comes in multiple colors.
Making This Prefilled Syringe Carrying Case a Reality
Currently, Carlos' case is available for discounted pre-sale on his website. He is starting a crowdsourcing campaign to officially launch the product and begin manufacturing. 
"This product was designed by somebody with diabetes for people affected by diabetes," says Carlos. "[By] purchasing this prefilled syringe case you are not just purchasing a very good quality product, you are also helping to bring new ideas and products to the market that enhance the lives of people with diabetes at an affordable price."
To learn more about this product, get some helpful tips about living with diabetes, or to pre-order your new pre-filled syringe case, visit https://www.t1d-ignited.com/ or email Carlos directly.