Living
Baring All for Type 1 Diabetes
One of the biggest diabetes stories of 2014 came about when Miss Idaho chose to expose her insulin pump during the swimsuit portion of the Miss America contest. A pair of young women with Type 1 diabetes plan to take that type of exposure one step further in 2015.
Kat Reed and Tara Layman have created a calendar, T1D Exposed, comprised of people with Type 1 diabetes in the buff, but wearing their pumps or continuous glucose monitors. All proceeds from the calendar will go toward Type 1 diabetes-focused non-profits. The purpose of the nude calendar is to reveal the complex relationships people with diabetes have with their bodies, say Reed and Layman. On the one hand, insulin therapy comes with callouses, scars, and extra pounds, but having Type 1 diabetes also inspires some individuals to be in incredible shape, and instills a resilience that can be seen on film.
"We are still beautiful and we embrace that," says Reed.
The idea for the calendar was hatched three years ago while Layman was working on a Master's degree photo project taking clothed portraits of families touched by Type 1 diabetes. As a photographer, Layman was struck by how little Type 1 diabetes revealed itself to the camera, and it reminded her how the condition is hidden from the public eye.
"We all kind of battle this chronic illness invisibly," Layman says.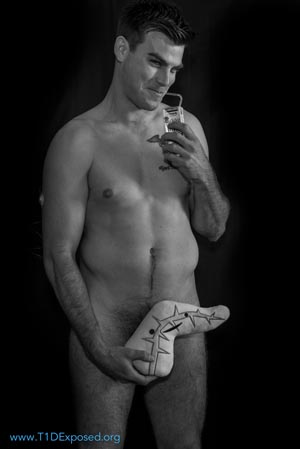 Layman and Reed began to laughingly discuss the idea of a nude calendar over drinks with friends, but all the while they kept hoping someone else would take the idea and run with it. After a long while, they realized they had to do the calendar if it was going to be done.
They began to recruit photo subjects among the Type 1 diabetes community in the San Francisco Bay area. Photos were shot in people's homes with minimum lighting to help create an intimate space for people to reveal their bodies. Some of the photos are playful, while others are more stoic. Both Reed and Layman also put themselves in front of the camera, and it was only then that they realized the leap of faith other participants took by being photographed nude.
"When it was our turn to get in front of the camera, it was terrifying," says Reed.
Reed and Layman say the best part of the project was getting to know the stories of others with Type 1 diabetes, and to witness their bravery. Reed recalls asking one participant who had Type 1 diabetes for over 50 years what was the craziest thing she had ever done. The woman laughed and responded, "I'm sitting here naked!"
The calendar was made available for sale on World Diabetes Day, and within a week there were 100 pre-orders, Reed reports. There are already plans in the works for a 2016 calendar.
Proceeds of the current calendar will benefit the Juvenile Diabetes Research Foundation (JDRF), CarbDM, Diabetes Youth Families (DYF), and Dash Camp. To order a calendar, visit www.t1dexposed.org.
Lead Image: Claire, Living with T1D for 18 years.
Thanks for reading this Insulin Nation article. Want more Type 1 news? Subscribe here.
Have Type 2 diabetes or know someone who does? Try Type 2 Nation, our sister publication.