Living
Barred from Joining The Police Because of Type 1 Diabetes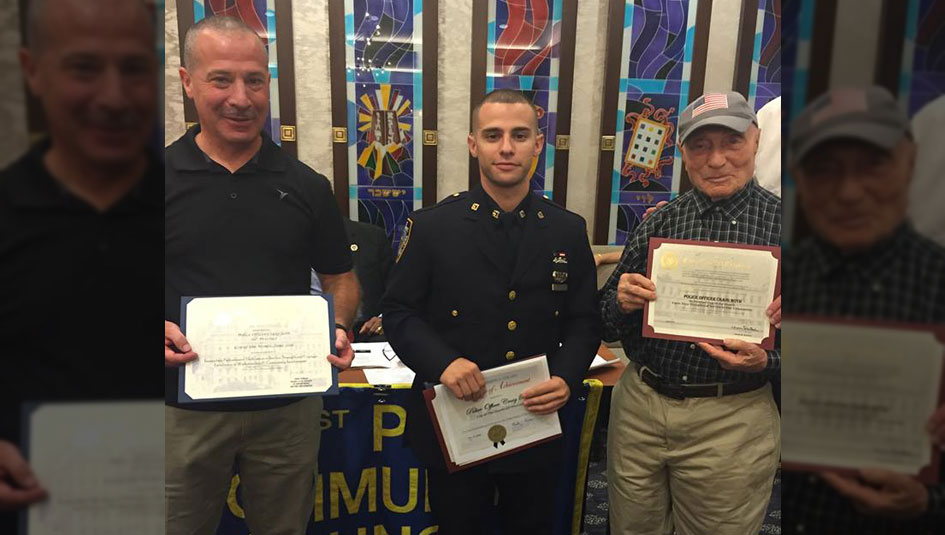 A Special Investigation
Above: Craig Roth (center) with his father, Saul (left), who also was a police officer.
For much of his life, Craig Roth wanted to be a police officer. He dreamed of following in his father's footsteps in joining the Nassau County Police Department and patrolling the Long Island community where his parents still live. Roth did become a police officer, and has served with distinction, but not for Nassau County; the county's civil service commission refused to hire him because of his Type 1 diabetes.
The bitterness of the rejection has caused him to move away from the community where he thought he would spend his life. He said it would upset him too much to see the blue-and-yellow-and-red emblem of the county's police force every day and know he couldn't be a part of the force.
"I wouldn't want to live in a place that blatantly violates my civil rights," Roth said in an interview.
sponsor
[adrotate banner="58″]
Roth has worked in public safety his entire adult life, including with the New York City Police Department, but Nassau County officials determined his Type 1 diabetes would be too much of a liability. Instead of serving his community, Roth has been fighting its government, alleging, first in a civil complaint and now in a federal lawsuit, that the Nassau County Civil Service Commission was guilty of discrimination under the federal Americans with Disabilities Act and New York's Human Rights Law. Roth's case highlights how little consensus exists in hiring guidelines for people with Type 1 diabetes in the field of public safety. Even those who have been working in the field for years may be barred from employment in a neighboring municipality.
When Roth began the process to join the Nassau County police force in 2015, he was no stranger to the lengthy hiring process to become an officer. He had already worked locally as a public safety officer for two years with Nassau Community College and as a seasonal officer patrolling the beaches for the Long Beach Police Department. He also served as a member of Nassau County's auxiliary police force when he was younger. To work in public safety, he had to pass many physical exams and background checks. To even be considered for a position on the Nassau County police force, he had to pass a highly competitive written exam; he scored towards the very top out of 12,000 test-takers.
Like many of those starting out in a career in law enforcement, he had applied to several police departments and knew that the hiring process might involve extra steps because of his Type 1 diabetes or for other reasons. The New York City Police Department, for example, put a hold on his application before eventually hiring him.
So neither he nor his family were particularly alarmed when after he took the initial medical exam his application was placed on medical hold in January 2015. He was told by the civil service commission, which is in charge of hiring police in that municipality, that he needed to turn in additional documentation related to his Type 1 diabetes and to undergo a cardiovascular stress test.
Then, in April 1, 2015, his application was denied by the civil service commission; the reason given was "endocrine condition (insulin-dependent diabetes) which precludes ability to fulfill the physical requirements of a Police Officer (sic)." He appealed and submitted a letter from his endocrinologist, who wrote that Roth was on top of his diabetes self-care and that he is "absolutely capable of performing duties as a Police Officer (sic) for the Nassau County Police Department." Around the same time, Roth graduated from New York City's police academy and was found fit to be a police officer for the New York City Police Department. Still, he wanted to be part of the Nassau County Police. If he became a Nassau County policeman, he would be patrolling his home community and the pay and benefits would be much better than with NYPD, he said in an interview.
As part of an appeal process, Nassau County's Civil Service Commission sent Roth to Dr. David Rosenthal, an endocrinologist hired by the county for an examination. Roth claims that Dr. Rosenthal told him during the exam that he was fit to serve, but Dr. Rosenthal's letter to the commission had a decidedly different verdict.
"Such job requirements inevitably raise concern regarding the stability of glycemic control, especially the potential for significant hypoglycemia under conditions of episodic bursts of severe physical exertion," Dr. Rosenthal wrote in his report of the exam. He also wrote, "The lack of such an event during his prior work experience is reassuring, but does not preclude future problems should he become a member of the Nassau County Police Department."
sponsor
[adrotate banner="61″]
Roth was ultimately rejected for the position. By then, his lawsuit was already underway and he was serving as a police officer, first with the New York City Police Department and then with a police department in Connecticut, where he now works. (Roth has asked to not have the Connecticut municipality named so as not to involve his current employer in the lawsuit more than necessary.) While serving with the the NYPD, he once received Cop of the Month honors in his precinct for using restraint in handling a tense situation with an armed suspect.
Insulin Nation attempted to reach out to Nassau County officials for comment for this story. Both civil service commission executive director Karl Kampe and County Attorney Carnell T. Foskey said that it is the policy of Nassau County public officials not to comment on pending litigation.
Trial depositions connected with the lawsuit, however, provide a picture of the county commission's reasoning behind the decision not to hire Roth, and the vagueness in the hiring process when it came to people with diabetes. According to court documents viewed by Insulin Nation, hiring officials with the county focused on five 911 calls made by Roth's family in response to bouts of hypoglycemia, the last occurring in 2012. Only one resulted in Roth needing transport to a medical facility.
One problem the civil service commission faced in evaluating Roth's application is that they have had so few applicants with Type 1 diabetes. Dr. Marlaine Tapply, who does medical examinations for the civil service commission, found that Roth was just the third applicant with Type 1 diabetes for the Nassau County Police Department, according to deposition transcripts; all three were rejected.
In her deposition, Dr. Tapply, who is a pediatrician by trade, was at times evasive about her knowledge of Type 1 diabetes. When a lawyer pressed her on how hormonal changes might affect teens with Type 1, she refused to answer because she said she was not an expert in endocrinology. Dr. Tapply did say in her deposition that Roth was denied a job because of "how brittle and fragile his diabetes was"; she later refined that to mean that his blood sugars "went up and down", and that he had had pump problems. When Roth's lawyer tried to persuade Dr. Tapply to agree that those pump problems occurred six years prior to the exam, she said she didn't remember the dates. Dr. Tapply then later said that a problem with Roth as an applicant was that his A1C score was high, but she then refused to say what a good A1C score would be.
Lawyers for the civil service commission also have focused on medical records of Roth's own endocrinologist. Specifically, they focused on insurance forms where it was marked that Roth had uncontrolled glucose levels. In the deposition, Roth's endocrinologist said in his deposition that an office manager likely filled out the form and that it was marked that way to avoid an argument with the insurance company on the need to pay for basic diabetes supplies.
Roth and his lawyers argue that he has his glucose levels well under control and that hypoglycemia has never been a problem while on the clock, including during vigorous duty and in extreme heat. Saul Roth, Craig's father, pointed out in an interview with Insulin Nation that the 911 calls for hypoglycemia were all instances when Craig's glucose levels dropped while he slept. Craig Roth says he uses an insulin pump and carries backup insulin pens should the pump fail; he also carries with him at all times supplies for bringing his glucose levels up. He says he has never had an instance of hypoglycemia while on the clock.
Throughout the deposition process, the witnesses called on Roth's behalf often have to explain how Type 1 diabetes works, providing basic facts on insulin therapy, pump therapy, and hypoglycemia. During a lengthy back-and-forth on whether the amount Roth is asking for in damages is fair, the opposing lawyer asked whether or not he factored in his Type 1 diabetes into his estimate of lifetime Social Security benefits.
Dr. Daniel Lorber served as an expert witness on behalf of Roth in the lawsuit; he is an endocrinologist who has helped shape employment guidelines for people with Type 1 diabetes for the American College of Occupational and Environmental Medicine and the American Diabetes Association. Looking over Roth's medical records, Dr. Lorber said he had no concerns about Roth's ability to serve as a Nassau County police officer.
"Craig actually met the standards for somebody who should be able to be a police officer," Dr. Lorber said in an phone interview.
Roth's case is not unique, Dr. Lorber said. People with Type 1 diabetes face employment discrimination in many different fields, including firefighters, truck drivers, and pilots. Often, the concerns center around hypoglycemia or high A1C scores, and sometimes the guidelines employers set for hiring those with Type 1 can be contradictory. For example, Dr. Lorber has worked with the New York City Police Department to change hiring guidelines that had called for A1C scores of 7.0 or below for applicants. The concern there, he said in his deposition, is that demanding such a low score may increase the risk of hypoglycemia while on duty.
There are resources available for those with diabetes who suspect employment discrimination, Dr. Lorber said. There are teams of volunteer lawyers who are willing to help on such cases, and the American Diabetes Association offers resources and assistance, as well.
"If I was in Craig's situation….I'd call the ADA and involve them right away," he said in the interview.
Roth said that Nassau County offered a small cash settlement, one that would require he never try to be employed by the civil service commission in the future. Those terms were unacceptable to him.
"We might as well fight because of what they've done," Roth said.
A trial date has not been set for this lawsuit, which will be tried in United States District Court in the Eastern District of New York. Insulin Nation will post updates as the case proceeds.
If you'd like to view the ADA's guidelines for hiring law enforcement officers with diabetes, click here. 
To learn more about the American Diabetes Association's resources on employment discrimination, click here. 
Do you have an idea you would like to write about for Insulin Nation? Send your pitch to submissions@insulinnation.com.
Thanks for reading this Insulin Nation article. Want more Type 1 news? Subscribe here.
Have Type 2 diabetes or know someone who does? Try Type 2 Nation, our sister publication.