By Chris Leach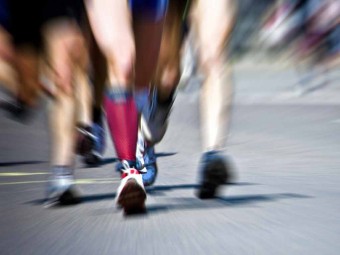 The Consumer Electronics Show in Las Vegas is usually dominated by computers, software, audio equipment, and televisions. Those categories were still well represented among more than 3000 exhibitors in 2013, but this year the fastest-growing exhibitor category was digital and mobile health devices. More than 200 companies, many of very recent vintage, are competing for customers who want to stay fit, lose weight, and improve or manage their health. Whatever excuse any of us has for being too heavy, out of shape, or both, it isn't because we can't buy affordable technology that will shower us with data and show us the way.
The rapid growth of wearable health devices based on combining semiconductors, sensors, and algorithms, sometimes called "the Internet of things," isn't based on new technology. Rather, this has occurred partly because platforms and components using old technology — sensors, pedometers and accelerometers — have become very inexpensive to produce in dramatically smaller sizes. In the simplest terms, sensors collect data, pedometers count movement, and accelerometers go beyond that to measure intensity of motion, among other things. Sensors can detect huge amounts of data just by being in contact with your skin. If you're reading this on a smartphone or tablet, an accelerometer is telling your device to present information either in portrait or landscape format when you rotate it. While a pedometer treats all steps equally, accelerometers can also track the intensity of each movement and the difference between running and walking.
None of these things are new — except the devices' smartphone, tablet, and app interfaces.
It is smartphone technology that makes the wearable tech movement possible on a large scale. Combining measurement devices with app-based programs that display data and allow the user to set goals and to input baseline information is the final piece of the puzzle. Together, old tech and new tech can combine to be extremely valuable allies in achieving and maintaining good health.
Wearable Pioneers
Every tech movement has its share of brave souls who foresaw the potential of their platforms to change lives even when the technology itself was too bulky, expensive, or wrapped in code to succeed as consumer products. But back in the 1990s, when both the Internet and wireless technology were in their infancy, BodyMedia (www.bodymedia.com) and FitLinxx (www.fitlinxx.net) became two of the originals in the wearable tech business.
BodyMedia's products are housed in armbands that ride on the skin above the elbow. The original Fit and second generation Core sensors are now joined by the Core 2, which is a smaller version of the original at about the size of an iPod Touch. Sensors that touch the skin measure more than 5,000 data points continuously while you wear the device, including calories burned, workout intensity, and sleep quality. The Core 2 is water-resistant, so you don't have to take it off in the shower. No matter which product you choose, the support system lives in free apps for both iPhone and Android devices. A monthly subscription fee, costing less than $10, allows you to input goals, foods choices, and other personal data, while real-time mobile monitoring is part of the package.
Of all wearable monitoring systems, BodyMedia's products are the only ones approved by the FDA as Class II medical devices. A clinical trial demonstrated the Fit system's power in helping to produce weight loss at up to three times the pounds shed without the system's feedback. Links to other apps such as MyFitnessPal, Notch, and RunKeeper allow you to synch with other fitness platforms. BodyMedia's' website allows potential buyers to compare its systems to their competitors' products. This is a confident company.
FitLinxx was founded by Tom Blackadar, who had once climbed trees along the route of the Boston Marathon, hanging the earliest versions of wireless communications nodes to allow continuous TV coverage of the runners' progress along their route. Today FitLinxx produces a comprehensive line of wireless devices that track activity, weight, and blood pressure. The Pebble activity tracker, FitLinxx's most recent product entry, monitors walking, running, biking and elliptical training, and it is waterproof. Pebble can be clipped to a belt, worn on a shoe, tucked into a bra, or ride along in other places. Its small size makes it inconspicuous.
FitLinxx learned that selling direct to consumers during the pre-Internet 1990s was a tough job. The company then turned to supplying its technology and interface platforms to companies that wanted to keep employees healthy and productive. It's been a successful business model, but happily, individuals will soon be able to buy Pebble directly through a FitLinxx partnership with Wellocracy (www.wellocracy.com), a health community recently launched at January's 2013 Consumer Electronics Show.
Wristbands & Heart Rates
Where wearables are best worn is a topic of scientific as well as fashion debate. BodyMedia CEO Christine Robbins said in a recent interview that her company has no interest in moving their devices to the wrist. "The upper arm accomplishes a number of different things, first and foremost accuracy," she said. Meanwhile, Fitbit (www.fitbit.com) believes in giving users a choices (clip or wrist) that will work best for them. Nike also offers choices: The Nike+ for iPod nano is designed to be worn on the shoe, while the Nike+ Fuelband is worn on the wrist.
Fitbit's newest product, the Flex, is a tiny pedometer cum calorie counter and sleep monitor. While a potential drawback for cyclists and swimmers is the device's inability to measure those types of exertions, the Fitbit website allows you to enter data derived from those activities to the action measured by the wristband. The device itself slips in and out of its wristband easily and multiple colors allow the fashion conscious to match the rest of an outfit. If you guessed by now that both BodyMedia and Fitbit are pitching themselves primarily to women, go to the head of the class.
The three companies already mentioned measure physical activity and its results, along with sleep patterns. Sweetwater Health's SweetBeat app (www.sweetwaterhrv.com) approaches health monitoring differently, measuring stress by using off-the-shelf wearable heart rate chest monitors to track heart rate variability (HRV) on an iPhone, iPad, or iPod nano.  While we traditionally think of heartbeats or pulse as a number between 60 and 90 per minute, the time between individual beats varies.
SweetBeat's algorithms use HRV to measure the health of the autonomic nervous system, which controls heart rate, respiration, and nervous system alike. The data reveals stress levels in the wearer that can be tied to events or times of day, allowing the user to recognize and perhaps change these stressful situations.
Data, Data Everywhere — But What About Integration?
Wearable devices automatically generate tens of thousands of data points in an endless flow that only stops when the sensors are taken off. Privacy concerns aside (and they are real), what's to be done with all this information? How can this information be made available and actionable to recipients without requiring them to possess numerous devices and apps? Cross-platform integration of data with apps such as MyFitnessPal are a good start, but there is no wearable device on the market that combines data from blood glucose monitors, insulin pumps, or CGMs, with activity and sleep information. Until a device like this becomes available, the "smart body" movement may be limited. Meanwhile, those who wear today's insulin pumps and CGMs are the true pioneers of wearable tech. And that's no small accomplishment.
Editor's Note: The rapid growth of wearable technology compels Insulin Nation to devote regular reports to different companies and platforms in future posts. Watch for additional coverage in the months ahead.